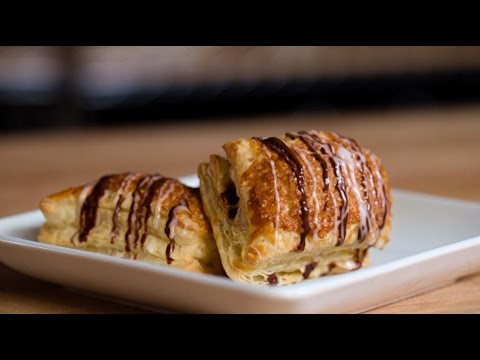 In this video we'll show you how to make Puff Pastries using any of our Amoretti Chocolate Spreads.
Click here to sign up to our newsletter:
Link to our Chocolate Spreads:
Here is our Chocolate Spread Puff Pastry recipe:
Frozen Puff pastry 1 sheet
Amoretti Almond Dark Chocolate Spread ¼ C
(Any flavor of Amoretti Chocolate Spread can be used in this recipe)
Egg, for egg wash 1
Glaze:
Powdered Sugar ¼ C
Milk 1 ¼ t
Raw sugar 2-3 T
Defrost the puff pastry sheet and on a floured surface, roll out to 1/8" thickness.
Preheat oven to 375 degrees.
Brush off extra flour covering the surface of the pastry sheet.
Cut the sheet in half, lengthwise.
Place the ¼ C Amoretti Chocolate Spread into a piping bag, cutting a small bit off the end of the bag.
Drop a teaspoon size amount of Amoretti Chocolate Spread onto one of the pastry sheets, leaving 1" space between each one, and outside edges.
Brush egg wash around the edges of the pastry and in between each drop of Amoretti Chocolate Spread.
Cover with the other half of the pastry sheet and press edges together and in between each drop. Cut in between each drop and press edges together with a fork. Each piece should resemble a ravioli.
Place each piece on a parchment-lined cookie sheet and chill in freezer for 10 minutes.
Egg wash the top of each piece and sprinkle with raw sugar.
Bake 9 minutes, then turn cookie sheet and bake again for 9 minutes.
Cool on a wire rack.
Mix powdered sugar and milk and fill a pastry bag with the glaze.
Warm the pastry bag with the Amoretti Chocolate Spread in the microwave for 5 seconds.
While the puff pastries are still warm, but not hot, drizzle the Amoretti Chocolate Spread over them, followed by a drizzle of the glaze.
Follow us on:
Visit:
The song is "I'll be there" by Joakim Karud on SoundCloud: