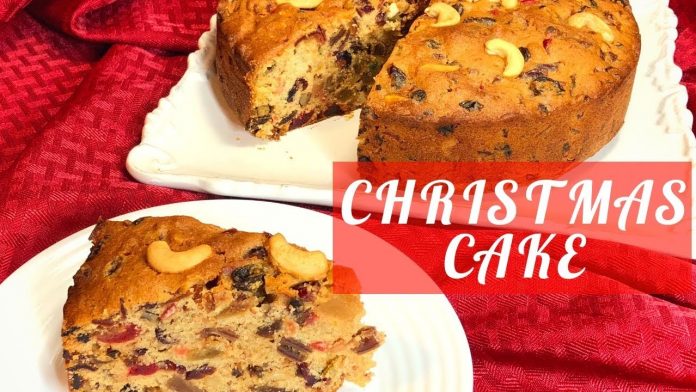 Tis the season & I am making my own Traditional Christmas Cake..
Check out my channel for more recipes:
#christmascake #sueran #fruitcake
This is an easy recipe if the ingredients are available readily. Rich with fruits & nuts with some nice boost to celebrate the Christmas season. You can keep this cake for about 3-4 weeks and can prepare ahead of time so you can store it while brushing with brandy to hold the moist in the cake & to make it even richer in tastier.
Don't forget to give it a LIKE & SUBSCRIBE to my channel for more recipes! 🙂
Follow me on Instagram
Follow me on Facebook
INGREDIENTS:
Fruits Used: (700g)
– 100g Dates
– 100g Black Raisins
– 100g Golden Raisins
– 100g Dried Pineapple Tidbits
– 100g Dried Carnberries
– 100g Maraschino Cherries
– 100g Candied Mix Peels
*You can add or change any fruit as prefer
Nuts Used: (100g)
– 30g Cashews Chopped
– 20g Pecans Chopped
– 20g Almonds Chopped
– 30g Walnuts Chopped
*You can use any type of nuts that is available.
– Few whole Cashew for decorations
– 150ml Brandy (Options; Rum or Orange Juice)
– Juice of an Orange
– Zest of an Orange
– Zest of a Lemon
– 225g Flour (all purpose flour)
– 60g Ground Almonds (Almond Flour/Meal)
– 200g Butter, room temperature soften
– 200g Light brown sugar (Dark brown sugar will give a darker color to the cake
– 3 Large Eggs
– 1 Tsp Baking Powder
– 1/2 Tsp Cinnamon Powder
– 1/2 Tsp All Spice
– 1/4 Tsp Nutmeg
TIPS:
***In this video I am soaking fruits for 7 days. It is better to soak them for about 2 weeks. More you soak more flavor you get. If you are making this cake in a hurry you can soak them for 24hours least.
***You can make this cake ahead of time and store it in a cool dry place, in a air tight container. Soak the cake with brandy or rum every 4-5 days.
9 Inch round pan..
Baking Sheet
*Bake in 300F degrees for one hour fifty minutes to 2 hours. Until a skewer inserted comes out clean.
PRODUCTS USED:
-Ground Almonds:
-Mixed Candied Peel:
-Black Raisins:
-Golden Raisins:
-Pitted Dates:
-Dried Cranberries:
-Pineapple Tidbits:
-Maraschino Cherries:
-Cashews:
-Walnuts:
-Almonds:
-Pecans:
Music:
Present – Ikson: Music promoted by Audio Library
Music: First Noel (Instrumental) – Jingle Punks