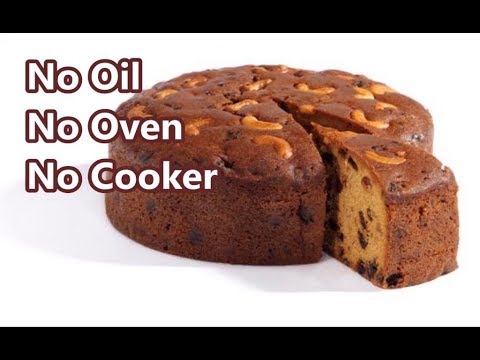 #fruitcakerecipe #plumcakevideorecipe #christmasplumcake
Hello everyone, Hope you all doing good. Christmas eve and New year in few days and many of you have been asking to post something special for Christmas. So, Today's recipe is "PLUM CAKE WITHOUT ALCOHOL". Christmas is all about spreading joy and spending time with family and christmas will be bored without having good food especially plum cakes aka fruit cake. So do try this yummy cake for our loved one's on this special occasion and spread joy and do share your experience in the comment section. Merry Christmas And Happy New Year 2019.
*******
i love reading your messages so please leave me a comment and i will do my best to get back to you. happy cooking.
*******
if you like this video please do like comment share and SUBSCRIBE to our channel.
SUBSCRIBE HERE :
loads of love
Priya Kumar ?
Jingle Bells Kevin MacLeod (incompetech.com)
Licensed under Creative Commons: By Attribution 3.0 License
AMAZON LINK :
Silicone Brush for Cooking, Multicolour (Set of 2) –
Wooden Bamboo Cutting Board with Antibactetial Surface –
Shot Glass Set –
Wooden Spatula,Set Of 5 –
Borosil Glass Mixing Bowl with Plastic Lid, 1.3 Litres –
Pigeon Stainless Steel Egg Handy Whisker –
Ideale Stainless Steel Cookware Set, 7-Pieces –
plum cake recipe allrecipes plum cake recipe almond meal plum cake recipe allotment plum cake recipe annabel langbein plum cake recipe anglo indian plum cake all recipes plum cake recipe without alcohol plum cake recipe with alcohol plum cake recipe bon appetit plum cake recipe ground almonds indian plum cake recipe without alcohol cooker plum cake recipe cookingshooking plum cake crumble recipe plum cake chatelaine recipe rich plum cake recipe christmas plum cake recipe in convection microwave plum cake recipe with condensed milk plum cake recipe with cream eggless plum cake recipe cooker plum cake sour cream recipenplum cake recipe in rice cooker plum cake recipe in pressure cooker eggless christmas plum cake recipe sanjeev kapoor plum coffee cake recipe chocolate plum cake recipe chocolate plum cake plum cake recipe plum cake recipe easy plum cake recipe eggless sanjeev kapoor plum cake recipe epicurious plum cake recipe with egg best plum cake recipe ever fruit cake recipe easy fruit cake recipe botw fruit cake recipe alton brown fruit cake recipe without rum fruit cake recipe with rum fruit cake recipe brandy fruit cake recipe without nuts fruit cake recipes with cake mix fruit cake recipe martha stewart fruit cake recipe from scratch fruit cake recipe with orange juice fruit cake recipe with molasses fruit cake recipe with bourbon fruit cake recipe moist fruit cake recipe with vanilla wafers fruit cake recipe without alcohol fruit cake recipe with real fruit fruit cake recipe with dried fruits and nuts fruit cake recipe with eagle brand milk fruit cake recipe bbc fruit cake recipe alcohol fruit cake recipe america's test kitchen fruit cake recipe allrecipes fruit cake recipe and method fruit cake recipe australia fruit cake recipe at home fruit cake recipe anna olson fruit cake recipe alcohol free fruit cake recipe and ingredients fruit cake recipe amy beh fruit cake recipe all in one fruit cake recipe apple fruit cake recipe south africa boiled fruit cake recipe australia fruit cake recipe no alcohol dark fruit cake recipe australia pumpkin fruit cake recipe australia light fruit cake recipe australia fruit cake recipe by alton brown fruit cake recipe british fruit cake recipe betty crocker fruit cake recipe bourbon fruit cake recipe best fruit cake recipe bon appetit fruit cake recipe breath of the wild fruit cake recipe better omes and gardens fruit cake recipe bbc good food fruit cake recipe boiling method fruit cake recipe boiled fruit cake recipe book fruit cake recipe by nisha madhulika fruit cake recipe blog fruit cake recipe bero fruit cake recipe basic fruit cake recipe brown sugar fruit cake recipe collin street bakery fruit cake recipe cook's christmas fruit cake recipe cupcakes fruit cake recipe chocolate