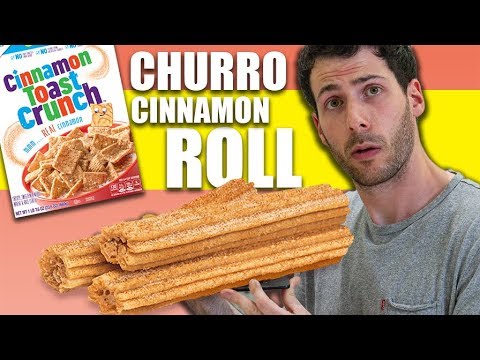 Dan teaches you how to make a delicious dessert! Churro Cinnamon Rolls using everyone's favorite cereal…. Cinnamon Toast Crunch!
Candy bacon
1 Pack of bacon
1/2 Cup brown sugar
1 Tbsp cinnamon
Churro dough
1 Cup of flour
1 Cup of water
1 1/2 Tbsp sugar
1 Tbsp salt
2 Tbsp vegetable oil
Churro coating
1/2 Cup sugar
1 Tbsp ground cinnamon
Oil for deep fry
1 Box of Cinnamon Toast Crunch =CTC
3 Eggs
1 Package of cinnamon roll dough
Tools
1 Chef knife
1 Cutting board
1 Small sauce pan
2 Mixing bowls
2 Oven trays
Parchment paper
Tooth picks
1 Metal slotted spoon
1 Piping bag
1 Wooden spoon
1 Large pot
Step 1: Candy bacon
Mix brown sugar and cinnamon together. Coat bacon strips with candy bacon mixture and cook in the oven at 375 degrees Fahrenheit for 15 minutes.
Step 2: Churro dough
In a small sauce pan add 1 Cup of water, 1 1/2 Tbsp sugar, 1 Tbsp salt, 2 Tbsp vegetable oil then bring to a boil. Add 1 cup of flour to the water and stir with the back end of a wooden spoon until the dough forms into a ball.
Step 3: Deep fry
Place the dough in a piping bag then heat a large pot of oil to 350 degrees Fahrenheit and begin to pipe 4 inch churro into the oil. Cook 2 at a time for 1 minute until golden brown.
Step 4: Churro coating
Mix together 1/2 a cup of sugar and 1 Tbsp of cinnamon. Coat churros in sugar mixture then wrap In candy bacon and cinnamon roll dough use tooth picks to hold in place. Back in the oven at 350 degrees Fahrenheit for 10 to 15 minutes. Once baked place in the freezer.
Step 5: CTC coating
In a food processor blend CTC. Dip churros in egg wash and coat in CTC then deep fry at 350 degrees Fahrenheit for 2 minutes or less.
Serve with maple syrup or icing
Check out Harley's Video Diaries –
#YoutubeCooking #Cooking #Food #Recipes
We have a YouTubeGaming Channel:
Follow the guys!
@harleyplays @chefatari @epicgrossguy @cooldan @itsmikesantos
LIKE/FAVORITE and SHARE for new meals every week!
Churro Cinnamon Roll – Handle It