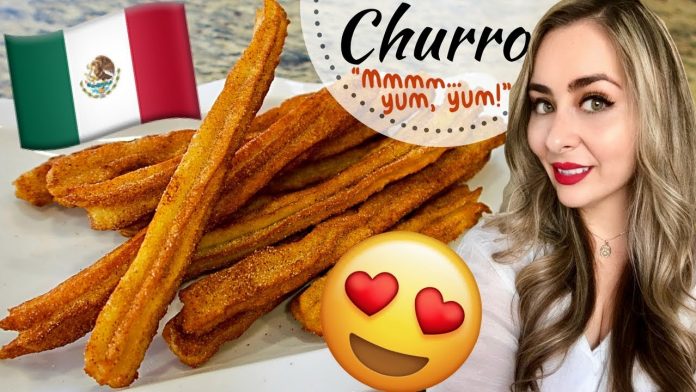 Churros, they're a Mexican fried dough pastry with a crunchy outside, soft fluffy inside, with the right amount of sweetness and a hint of cinnamon. They're enjoyed by many and are really easy to make at home with some tips and tricks! I hope you enjoy this easy Churro recipe.
Happy Recipe Friday! Fusion Fam! ❤️?
#mexican #churros #recipe #fusionfam #laviejolie
– – – – – – – – – – –
CHANNEL INFO:
Hola! I'm Johanna, a Latina of Spanish, French, & Irish descendants. I'm a researcher turned entrepreneur and married to my best friend who happens to be Vietnamese. We're a wonky fusion, but like it that way! ☆ My channel is mostly Cooking & Lifestyle based. I love COOKING, being with my family & friends, dressing up, and just being happy! We also have two yorkies named Leo & Louie that are our spoiled furry children! Their endless shenanigans always make us laugh. See you in the next video!
Schedule:
Monday's @ 11:00am PST – Intercultural Lifestyle Vlogs
Friday's @ 11:00am PST – Recipe Videos
Please SUBSCRIBE here!
Previous Friday Recipe:
Previous Monday Vlog:
– – – – – – – – – – –
RECIPE INGREDIENTS & MEASUREMENTS: (Yields: 10 8-inch churros)
1 cup flour (~150g)
1 cup water (230 ml)
2 tbsp. unsalted butter (42g):
2 tbsp. sugar (20g):
½ tsp. of baking powder (1g):
¼ tsp. salt (1/2g or 2 big pinches):
1 egg (60g)
1 cinnamon stick (42g):
Vegetable Oil: Enough oil to coat the skillet about 2 inch. The exact amount varies on the depth of the skillet used.
Sugar Cinnamon Garnish:
¼ cup sugar (50g)
2 tbsp. ground cinnamon (10g)
sugar to cinnamon ratio may be adjusted to taste.
SUBSTITUTIONS:
Flour: wheat flour or cake four may also be used
Butter: margarine, coconut oil, or vegetable shortening may be used.
Sugar: agave nectar, honey, baking stevia, or any other sugar substitute may be used.
Cinnamon stick: ½ tsp. or 1g of ground cinnamon may be used instead.
Sugar Cinnamon Garnish: Melted chocolate used to dip churros or Powdered sugar are popular garnish options as well
ALTERNATIVE: BAKED CHURROS
Preheat oven to 480F (the oven needs to be very hot). Place uncooked churros on a baking pan that's been lightly greased with a sprinkle of flour or lined with parchment paper in a single layer, making sure they are not touching. Bake churros on the highest oven rack for 25 – 30 minutes or until the ridges turn brown. Oven baked churros have more of a cookie like crust and are thicker, as well as a bit more crumbly than fried ones, but the center is still very much like a donut. The outside color will not be as golden as the fried ones, but they're still very good.
– – – – – – – – – – –
PRODUCTS
#2D Wilton Tip:
Disposable Pastry Bag:
Portable Butane Gas Stove:
Kitchen Cookware Set I Use:
What I use to film:
Canon PowerShot G7X Mark:
*Disclaimer – not sponsored to make this video or asked to show the items. Amazon links are affiliate links.
– – – – – – – – – – –
Notes:
* Uncooked churros can be frozen and stored for up to a month. Once piped unto a baking pan lined with parchment/wax paper in a single layer, careful that they're not touching, cover them with plastic wrap and set them in the freezer. Once frozen, remove the churros from the baking pan and store in an airtight container/bag. Return them to the freezer. When ready to use, cook from frozen without thawing. Please note that frozen churros will not have the same texture as fresh churros, fresh churros are always best. 🙂
** Churros are best consumed shortly after being made, but can keep their integrity for about 4 hours if kept warm.
***Always wash hands before beginning a recipe and after handling raw eggs. Sorry guys the science geek in me just has to say this even though everyone knows this already. ?
Suerte En La Cocina – Good Luck In The Kitchen ??
– – – – – – – – – – –
Instagram:
¬¬
Summer Moments by Del
Attribution-ShareAlike 3.0 Unported (CC BY-SA 3.0)
…
Music promoted by Audio Library