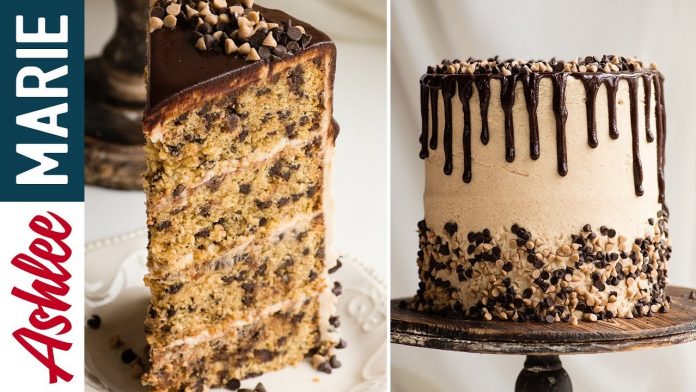 This cinnamon chocolate chip cake recipe is one of my all time favorites, second only to my dense dark chocolate cake. It has a rich moist flavor and tastes amazing .
_↓↓↓↓↓↓ CLICK "SHOW MORE" TO GET RECIPE ↓↓↓↓↓↓↓↓ _
Subscribe to my channel
This is a large amount of batter, 19 cups, that I use in either three 8 inch layers or four 7 inch layers, and I recommend using tall 3 inch cake pans. The recipe easily breaks down by fourths if you are looking to make a smaller batch.
CINNAMON CHOCOLATE CHIP CAKE RECIPE
8 cup flour (8 1/2 for high altitude)
8 cup lightly packed brown sugar (7 1/2 for high altitude)
2 tsp cinnamon
2 cup cold butter cut into pieces
4 eggs
4 cup sour cream
4 tsp baking soda (3 1/2 tsp for high altitude)
1/2 cup milk
6 cup mini chocolate chips
Preheat your oven to 325 (25 degrees hotter for high altitude – use an oven thermometer)
in a mixer with the whisk attachment add the flour, sugar and cinnamon
add the butter and mix on height until the butter pieces are the size of peas – stop before it starts to warm and cream
dd the eggs one at a time, mixing between
in a medium sized bowl mix the baking soda and sour cream, let sit 3 mins (it will expand)
add the sour cream mixture into the batter along with the milk and stir until just evenly moistened
stir in the chocolate chips – it will be a thick batter
spread into three 8 or 9 inch pans and bake until a toothpick comes out clean, about an hour (50 mins for high altitude)
CINNAMON BROWN SUGAR CREAM CHEESE FROSTING
1/2 cup butter
12 oz cream cheese
1/2 cup brown sugar
1 tsp vanilla
2 lbs powdered sugar give or take
2 tsp cinnamon
Melt the butter and brown sugar together until the brown sugar dissolves
let cool to room temperature (you don't want this warm when you add it to the frosting)
beat the cream cheese until creamy
pour the brown sugar mixture into the cream cheese and beat until smooth
mix in the vanilla
add half the powdered sugar and beat
add the cinnamon and beat
add more powdered sugar 1 cup at a time until your happy with the thickness
MORE CAKE VIDEOS
Chocolate chocolate cake
Maple Bacon Cupcakes
Pumpkin Cake
Chocolate chip cookie cake
Sno Ball Cake
Russian piping tip cake
ASHLEE MARIE – I'm all about from scratch recipes, cake decorating tutorials and fun themed foods. I believe anyone can cook with the right tips and tricks. I love creating delicious food at home and enjoy sharing my recipes with you. I'm self taught and if I can do it you can do it! I hope that my videos help you learn to make the dishes and desserts you've always dreamed of making
CONTACT ME – I'd love to work with you
ashlee@ashleemarie.com
YOU CAN FIND AND FOLLOW ME ON SOCIAL MEDIA HERE
Blog:
Facebook:
Pinterest:
Instagram:
Twitter:
"Lift me up" Song by zhanic at Pond 5