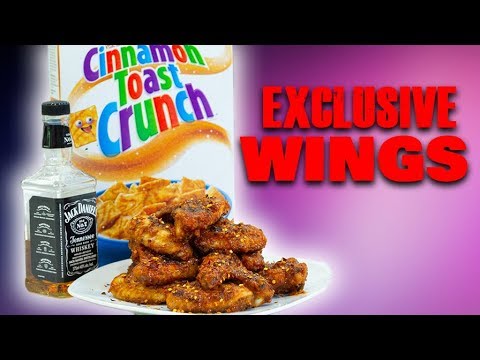 This week Ameer fuses together your favorite breakfast, with your favourite drink, and your favourite meal. This is Cinnamon Toast Jack Daniels' Wings!
Ingredients
1 Lb of chicken wings
1 Box of cinnamon toast crunch
1/3 Cup of chili flakes
Sauce
1 Small onion diced
1 Tbsp minced garlic
1/2 Cup of Jack Daniel's
2 Cups of ketchup
1/4 Cup of vinegar
2 Tbsp's of tomato paste
1/4 Cup Worcestershire sauce
1/3 Cup of brown sugar
Salt and pepper to season
Step 1
In a small sauce pan simmer 1 diced onion, 1 Tbsp minced garlic and 1/2 cup of jack Daniels on medium heat for 7 minutes until onions are translucent.
Step 2
Add 2 Cups of ketchup, 1/4 Cup of vinegar, 2 Tbsp's of tomato paste, 1/4 Worcestershire sauce, 1/3 Cup of brown sugar, Salt and pepper to jack Daniel's then simmer on low heat for 20 minutes. Once the sauce has reduced blend in a food processor and refrigerate.
Step 3
Blend cinnamon toast crunch in a food processor until it's a fine powder then toss wings in powder until completely covered.
Step 4
Warm BBQ on low heat and place the wings on the grill where there is the lowest heat to avoid burning them. Turn and move Wings constantly to cook evenly.
Step 5
Once the wings are cooked toss in Jack Daniels BBQ sauce and 1 Tsp of chili flakes. Maybe pan fry
Check out our new Jerky available in Walmart across the USA!
Check out Harley's Video Diaries –
We have a YouTubeGaming Channel:
Follow the guys!
@harleyplays @chefatari @epicgrossguy @cooldan @itsmikesantos
LIKE/FAVORITE and SHARE for new meals every week!
Cinnamon Toast Jack Daniels' Wings – Handle It