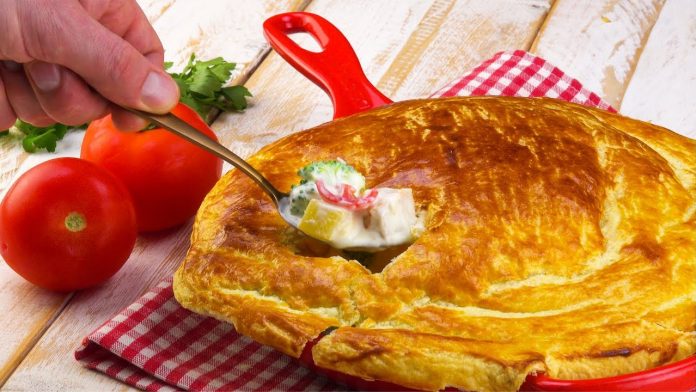 Here's how to make our delicious Chicken Alfredo Pan Pie. Don't forget to subscribe to our channel first!
You'll need:
– 10.5 oz chicken breast, diced
– oil for frying
– 5.3 oz potatoes, diced
– 5.3 oz broccoli, cut into florets
– 11.8 fl oz cream
– 3.5 oz grated parmesan
– 3.5 oz cream cheese
– 1 garlic clove, chopped up
– 1.8 oz butter
– 10 cherry tomatoes, cut into four
– puff pastry
– 1 whisked egg
Here's how:
1. Fry the chicken breast pieces in hot oil, ideally in a cast iron skillet as we've used in the video. Then add the potatoes, broccoli, salt, and pepper. Leave the vegetables to cook with the chicken.
2. Pour the cream into the pan before adding the parmesan, cream cheese, garlic, and butter. Mix the ingredients and leave everything to cook for 10 minutes. Now you can stir in the tomatoes.
3. Take the pan off from the heat and place the puff pastry on top so that it hangs over the edge of the pan. Press the pastry down along the edge of the pan and brush it with the whisked egg. Bake your Chicken Alfredo Pan Pie at 375°F for 20 minutes in a preheated oven.
Full recipe here: www.scrumdiddlyumptious.com/chicken-alfredo-pan-pie/