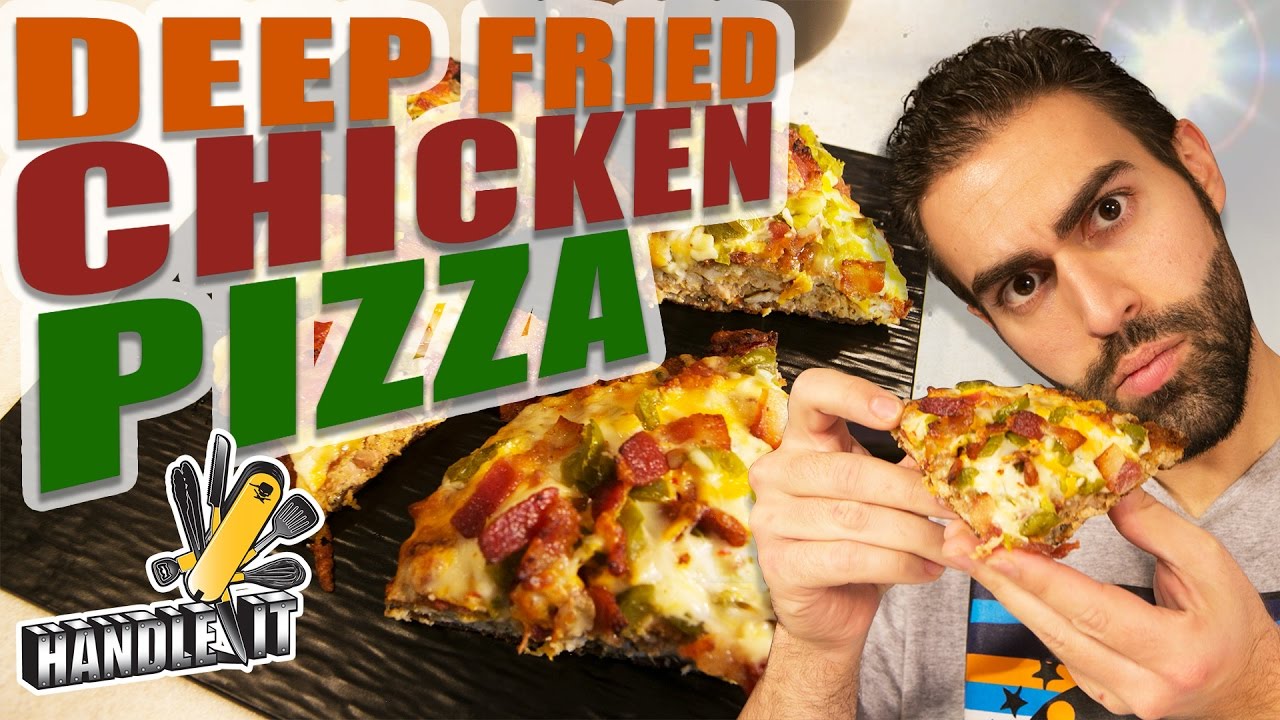 Ameer teaches you how to make a pizza using deep fried chicken as the dough. It's country style delicious! Oh yeah, and there's gravy too!
Steps and Ingredients:
Ingredients
6 Chicken thighs
1 Cup of bread crumbs
1 Cup of Flour
4 Eggs
1 Pack of bacon
2 Cups of cheese
1 Cup of jalapeños
Vegetable oil
Gravy
3 Tbsp of butter
5 Tbsp of flour
1/2 Cup of water
2 Beef bouillon cubes
1 3/4 Cup of chicken broth
Salt and Pepper to season
Tools
1 Large pot
1 Chef knife
1 Cutting board
1 Frying pan
1 Wooden spoon
1 Metal slotted spoon
1 Small sauce pan
4 Oven trays
1 Food processor
Parchment paper
Step 1
Chop up and Season chicken thighs then add to a food processor and pulse. If you don't have a food processor, ask your butcher to grind some for you.
Step 2
Place the chicken on a tray lined with parchment paper and begin to form a pizza crust about an inch thick. Keep in mind to measure your pots size to see how big you can make your crust. Once shaped place in the freezer for 20 minutes.
Step 3
Cut your bacon into bits and fry in a pan on medium heat for 15 minutes until crisp.
Step 4 gravy
Microwave 2 cubes of beef bouillon for 2 minutes, then stir until dissolved. In a small sauce pan melt 3 Tbsp of butter, then add 5 Tbsp of flour, stir until thick and smooth, then add the beef stock and chicken broth, then stir until there are no more lumps. Continue to cook in high heat until thick.
Step 5
Prepare your breading ingredients on oven because trays it will make the coating processor easier. Remove the chicken crust from the freezer and cover it in flour. Then dip it in egg wash and coat in bread crumbs.
Step 6
Heat a large pot of oil to 330 degrees Fahrenheit and deep fry the chicken crust for 6 minutes once cooked remove and place on an oven tray.
Step 7
Cover chicken crust in gravy then top with cheese, bacon bits, and jalapeños. Then place in the oven on broil for 2 to 4 minutes until cheese is melted. Let cool for 5 minutes then serve.
Check out Harley's Video Diaries –
We have a #YouTubeGaming Channel:
LIKE/FAVORITE and SHARE for new meals every week!
And order the COOKBOOK from any of these links:
Amazon: …
B&N: -…
BAM: …
iBooks: …
Need tools to cook with? Order the cooking arsenal:
Deep Fried Chicken Pizza- Handle It