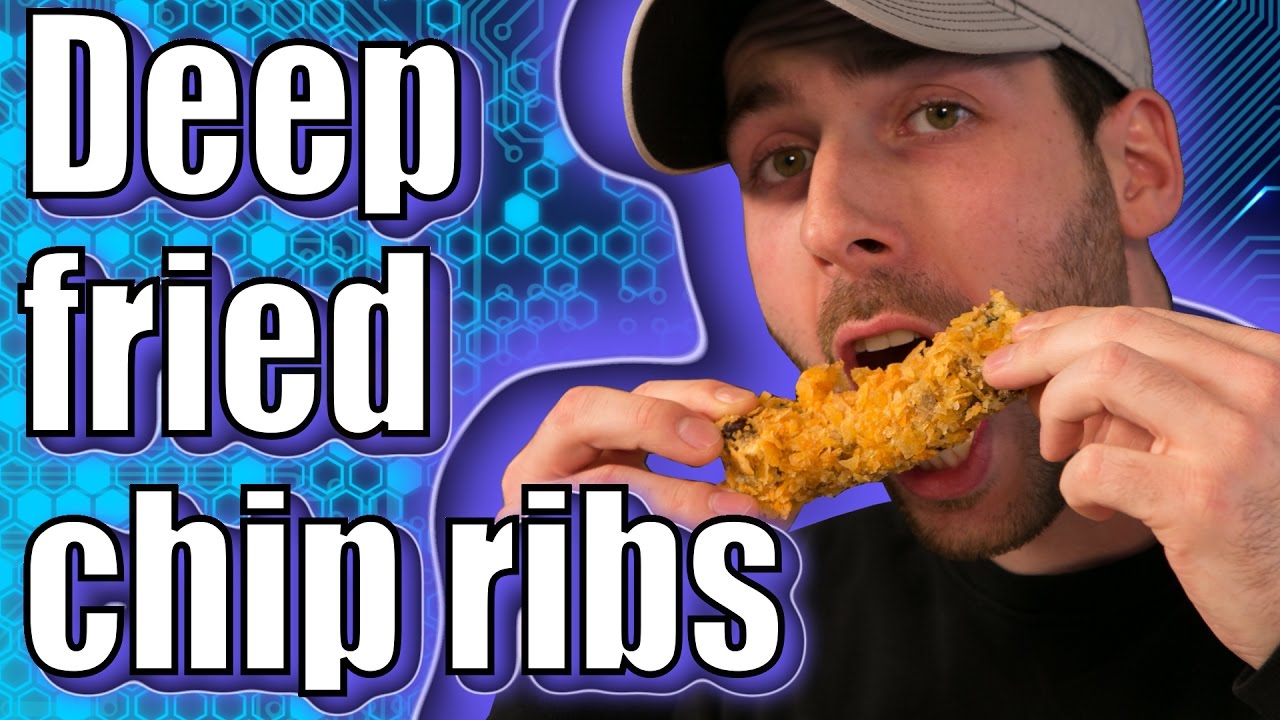 Dan gets crazy with Harley's mom in the latest episode where we make Deep Fried Chip Ribs.
Tools/Steps/Ingredients below:
Ingredients
1 to 2 racks of pork back ribs
1 Bag of BBQ chips
4 Eggs
2 Cups of flour
Sauce
1/2 Cup of ketchup
2 Tbsp brown sugar
2 Tbsp Worcestershire sauce
1 Tbsp cider vinegar
1 Tsp cayenne pepper
1 Tsp garlic powder
1 Tsp Dijon mustard
1 Tsp salt
Vegetable oil for deep fry
Tools
1 Chef Knife
1 Cutting board
1 Frying pan
1 Large pot
1 Pair of metal slotted spoon
3 Mixing bowls
Step 1
Separate the ribs from the rack cutting against the bone between each rib, then season ribs with a dry rub, and bake in the oven at 375 degrees Fahrenheit for an hour and a half.
Step 2
Cut bacon Into bits then cook in a frying pan for 10 to 15 minutes. Once the bacon is cooked, blend in a food processor with some bacon grease until bacon is pureed and no longer in bits.
Step 3
In a small sauce pan add 1/2 Cup of ketchup, 2 Tbsp brown sugar, 2 Tbsp Worcestershire sauce, 1 Tbsp cider vinegar, 1 Tsp cayenne pepper, 1 Tsp garlic powder, 1 Tsp Dijon mustard, 1 Tsp salt and bacon puree then bring to a boil and simmer until thick.
Step 4
Crush the BBQ chips with your hands or food processor then prepare the coating station with 4 Eggs and 2 Cups of flour. Dip the rib in egg wash then coat in flour re dip in egg wash and coat in BBQ chips. Repeat this step for the rest of the ribs.
Step 5
Heat oil to 350 degrees Fahrenheit then deep fry ribs for 5 to 6 minutes each. Once cooked serve with BBQ sauce.
Check out Harley's Video Diaries –
We have a #YouTubeGaming Channel:
Follow the guys!
@harleyplays @princewallick @lemme_kno @epicgrossguy @cooldan @santos_mtl
LIKE/FAVORITE and SHARE for new meals every week!
And order the COOKBOOK from any of these links:
Amazon: …
B&N: -…
BAM: …
iBooks: …
Need tools to cook with? Order the cooking arsenal:
Deep Fried Chip Ribs – Handle It