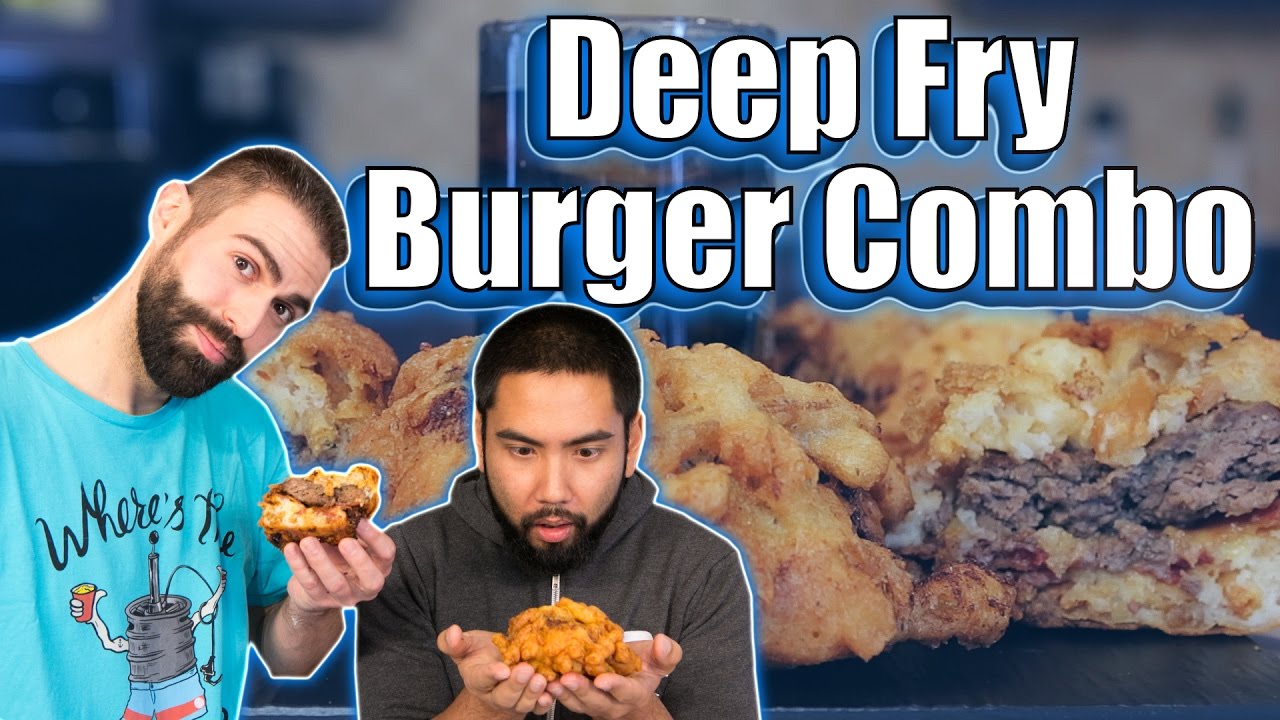 Prince Wallick and Santos get down with the Deep Fry Burger in this week's episode! Learn how to make it right now!
Ingredients
1 Bag of frozen shoestring french fries
1/2 LB of ground beef
1 Egg
1 Pack of bacon
8 Slices of cheese
Salt and pepper for seasoning
Vegetable oil for deep frying
Batter
1 3/4 Cup of flour
2 Tsp of baking powder
1 Tsp of salt
2 Cups of buttermilk
Tools
1 Mixing bowl
1 Large pot
1 Pair of tongs
1 Metal slotted spoon
2 Frying pans
1 Spatula
1 Oven tray
Parchment paper
Step 1
Bake french fries in the oven until cooked.
Step 2
Cook bacon in a frying pan on medium heat for 15 minutes until desired crispness.
Step 3
Mix ground beef with egg, then Season with salt and pepper. Once the meat is mixed, begin to form burger patties.
Step 4
Cook burger patties on a frying pan for 3 to 4 minutes each side. Once cooked, immediately place a slice of cheese, then bacon, and a final slice of cheese on all burger patties. Let cool.
Step 5
Mix flour, baking powder, and salt together. Add 2 Cups of buttermilk to make a thick batter.
Step 6
Heat oil to 325 degrees Fahrenheit. Add french fries to the batter then mix well. Dip burgers into fry batter, and cover completely, then deep fry for 2 to 3 minutes until golden brown. Repeat this step for the rest of the burgers.
Step 7
Pour yourself a tall soft drink and get your favorite sauces and enjoy.
Check out Harley's Video Diaries –
We have a #YouTubeGaming Channel:
LIKE/FAVORITE and SHARE for new meals every week!
And order the COOKBOOK from any of these links:
Amazon: …
B&N: -…
BAM: …
iBooks: …
Need tools to cook with? Order the cooking arsenal:
Deep Fry Burger Combo Huge – Handle It