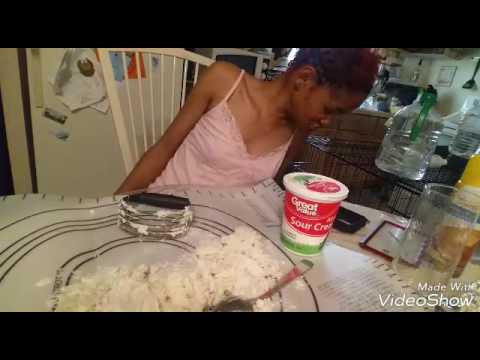 PINTEREST LINK:
Recipe:
•2 cups bisquick biscuit mix any brand
•1/2 cup sour cream
•1/2 cup club soda
•Mixing bowl
•pastry blender
•fork
•pam or butter spray
•basic biscuit cutter or drinking glass
DIRECTIONS:
PREHEAT OVEN TO 400°
1. Dump biscuit mix in bowl.
2. With pastry blender, cut in sour cream til. incorporated.
3. Add in club soda, and stir with fork, and dust pastry mat with biscuit mix
4. Scrape dough from bowl onto mat, distilled with biscuit mix only til dough is no longer sticky.
5. Spray glass or cutter with butter spray.
6. Cut biscuits out.
7. Place in baking pan close together, (optional) line with parchment paper or foil.
8. Melt in microwave 1tbsp. butter, and spread in top.
9. Bake for 15 minutes.
ENJOY THESE FLUFFY DELICIOUS BISCUITS. I DUNNO ABOUT YALL BUT I WON'T EVER BUY BISCUITS AGAIN. UNCOOKED DOUGH CAN BE FROZEN THEN BAKED AS MANY AS NEEDED.
Created by VideoShow: