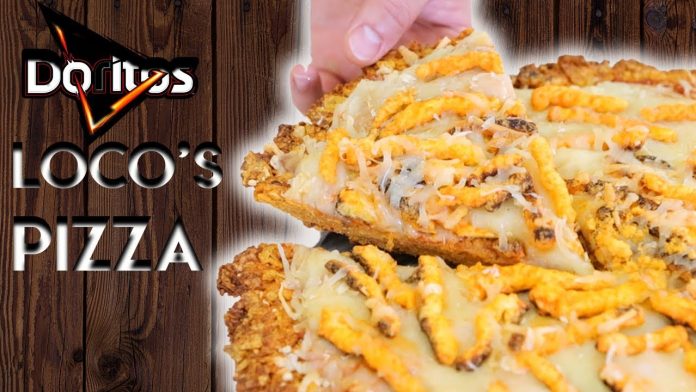 This week Ameer and Harley come together to teach you how to make a Doritos, Cheetos Pizza that turned out to be so damn delicious!
Ingredients
Crust
2 Bags of Doritos chips
1 Cup of flour
1 Cup of bread crumbs
2 Tbsp of baking powder
2 Cups of mozzarella cheese
2 Eggs
1 Cup of pizza sauce
2 Cups of mozzarella cheese
1 Small bag of Cheetos
Tools
2 Mixing bowls
1 Pizza tray
Parchment paper
Step 1
Crush 2 bags of Doritos chips inside the bag to prevent making a mess. Be sure not to crush the chips too much just enough to make bits.
Step 2
In a mixing bowl add Doritos crumbs, 1 Cup of flour, 1 Cup of bread crumbs, 2 Tbsp's of baking powder, 2 cups of mozzarella cheese and 2 eggs then mix well until ingredients bind together.
Step 3
Line a pizza tray with parchment paper and sprinkle some breadcrumbs then place your Doritos crust in the center of the tray. Using a piece of parchment paper begin to flatten the crust until it's all compressed together and it's a smooth surface. Bake in the oven at 375 degrees Fahrenheit for 40 minutes to an hour.
Step 4
Once the crust is baked begin to layer with 1 cup of pizza sauce, 2 cups of mozzarella cheese and Cheetos then bake in the oven at 350 degrees Fahrenheit for 5 to 10 just to melt the cheese. Once done let sit for to minutes then serve.
Check out Harley's Video Diaries –
We have a #YouTubeGaming Channel:
Follow the guys!
@harleyplays @chefatari @epicgrossguy @cooldan @itsmikesantos
LIKE/FAVORITE and SHARE for new meals every week!
Doritos Locos Pizza – Handle It