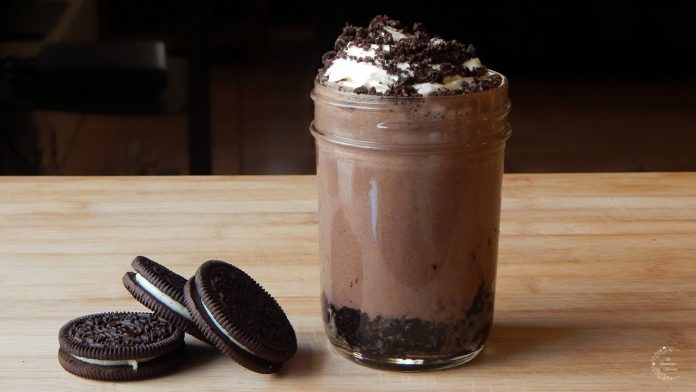 Learn how to make a chocolaty dessert shake to satisfy your sweet tooth. 🍪🍫
Ingredients:
Cookie Base:
1/2 Cup Oreo Cookie Crumbs (50g)
1 Tablespoon Milk (15ml)
Shake:
1/4 Cup Mini Semisweet Chocolate Chips (42g)
1/2 Cup Oreo Cookie Crumbs (50g)
1/8 Teaspoon Ground Cinnamon (0.33g)
1/4 Cup Milk (60ml)
1 1/4 Cup Sugar Free Vanilla Ice Cream (202.5g)
Optional:
Whipped Cream
Directions:
1. In a small bowl mix together 1/2 cup of cookie crumbs and the tablespoon of milk until well combined. Press this mixture onto the bottom of two glasses. Place glasses in the freezer.
2. In a blender, combine the chocolate chips, cookie crumbs, cinnamon, milk, and ice cream. Process until smooth.
3. Pour the shake into the chilled glasses. Optional: Top with whipped cream and cookie crumbs.
| Makes 2 servings.
| ↪ Connect With This Channel | ☕
Facebook –
Tumblr –
Twitter –
Instagram –
| Personal Accounts | 🌱🐈
Instagram –
Twitter –