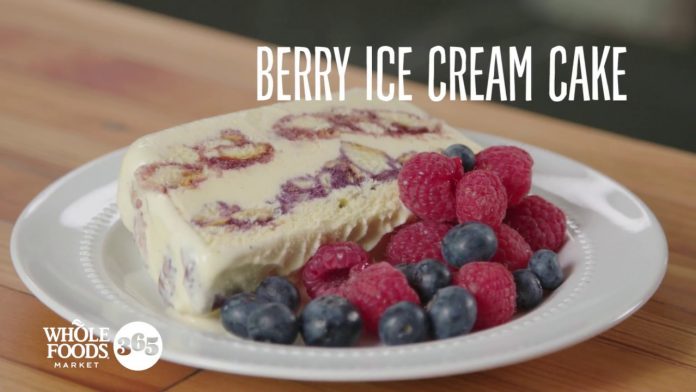 Easy 4th of July Ice Cream Cake
Makes 8 to 10 servings
This super-simple red, white, and blue ice cream cake is perfect for your 4 th of July cook-outs!
The brioche is a not-too-sweet addition, but if you like, you can use pound cake or angel food
cake instead. Make the cake a few days ahead, then unmold and slice just before serving.
8 (1/2-inch) slices brioche, cut into ½-inch cubes (about 5 cups)
½ teaspoon lemon zest, divided
½ cup raspberry fruit spread
½ cup wild blueberry fruit spread
1 (1.75 quart) container vanilla ice cream, softened
1 cup raspberries, for serving
1 cup blueberries, for serving
1. Divide brioche among two medium bowls and add ¼ tsp of the lemon zest to each bowl. Add
raspberry fruit spread to one bowl and toss to coat. Add blueberry fruit spread to the second
bowl, and toss to coat. Set aside.
2. Line a 9-inch loaf pan with plastic wrap so that it overhangs by at least 3 inches on all sides.
Scoop 2 cups ice cream into the bottom of the loaf pan, then use a spoon or small offset spatula
to spread into an even layer. Add raspberry brioche and spread into an even layer, pressing
gently into the ice cream. Top with another 2 cups ice cream, carefully smoothing into an even
layer over the brioche.
3. Add the blueberry brioche and spread into an even layer, pressing gently into the ice cream.
Top with remaining ice cream (should be about 1 cup) and spread evenly over the brioche.
4. Fold the plastic wrap over the ice cream and press gently. Freeze the ice cream cake until firm,
at least overnight. To serve, unfold plastic wrap and invert onto a serving dish before slicing.
Serve with raspberries and blueberries.
Share your creations with us with #GoodThings365
About Whole Foods Market 365:
Whole Foods Market 365™ is changing the grocery shopping experience. Committed to making healthy living easy, 365 provides simple, affordable and convenient everyday shopping to neighborhoods nationwide without sacrificing the quality standards and dedication to food transparency that Whole Foods Market pioneered. Whole Foods Market 365 features a thoughtful product selection curated for convenience, including the 365 Everyday Value® brand customers know and love, alongside other high-quality brands and new offerings from innovative supplier partners.