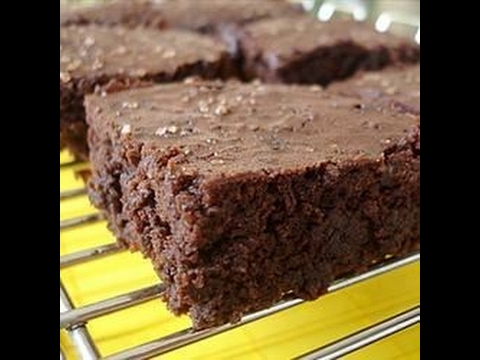 Ingredients:
2 ripe bananas, mashed
1 1/2 cups vegetable oil
1 cup potato flour
1 cup brown rice flour
2 cups white sugar
1/2 cup unsweetened cocoa powder
1/2 teaspoon baking soda
5/8 teaspoon cream of tartar
1 1/2 teaspoons sea sal
Directions:
Preheat the oven too 325 degrees F (165 degrees C.) Grease a 9×13 inch baking dish.
In a large bowl, mix together the potato flour, rice flour, sugar, cocoa powder, baking soda, cream of tartar and salt. Blend together the bananas and oil in a separate bowl. Stir the banana mixture into the dry ingredients until well blended. Spread evenly in the bottom of the prepared pan.
Bake for 20 to 25 minutes in the preheated oven, until they appear dry on the top. Cool completely, and cut into squares.
Nutrition
Calories: 295 kcal 15%
Fat: 16.9 g 26%
Carbs: 36.6g;12%
Protein: 1.7 g 3%
Cholesterol: 0 mg 0%
Sodium: 169 mg 7%
Based on a 2,000 calorie diet