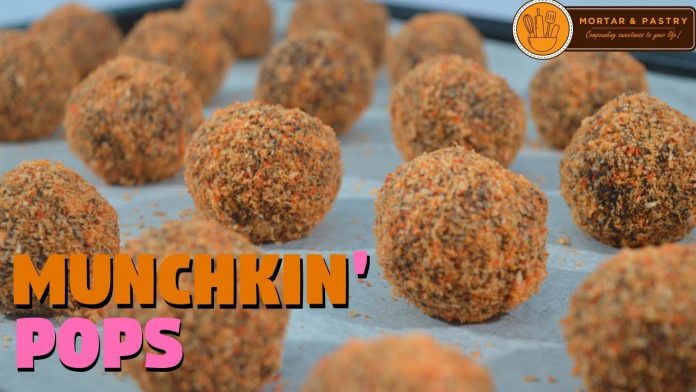 These chocobutternut munchkin pops has surely made you fall in love to dunkin'! These are my childhood fave and up to now I kept on snacking onto them whenever I see dunkin donuts. Tried to recreate a homemade easy version with a twist so you guys can also make them! Enjoy!
Ingredients:
*Prepare your favorite chocolate cake recipe
*Prepare your favorite chocolate buttercream recipe
(See links for the recipes I used below)
For the chocolate glaze:
1 cup powdered sugar
1/3 cup cocoa powder
4-5 tablespoons of water (I used 5 tbsp)
For the butternut coating:
1 ½ cups fine desiccated coconut
¼ cup powdered sugar
5 tablespoons melted butter
8-10 drops orange liquagel food coloring
• In this I used one recipe of my chocolate cake and half recipe of my chocolate buttercream and yielded 50 munchkin pops
• If your desiccated coconut is too coarse, you can pulse it in a blender or food processor until semi-fine
Recipes used for the Cake Pops:
CHOCOLATE CAKE RECIPE (Checkout the same one I used in my Dream Cake!):
CHOCOLATE BUTTERCREAM RECIPE:
VANILLA BUTTERCREAM RECIPE:
We would love to see your works! Please tag us on Instagram and Facebook @mortarandpastry or use the hashtag mortarandpastry and show us your creations!
LIKE, COMMENT, SHARE & SUBSCRIBE!
LET'S CONNECT!
SUBSCRIBE TO OUR CHANNEL:
FACEBOOK:
INSTAGRAM:
CHECKOUT SOME MORE M&P RECIPES!
Trending NO BAKE CHOCOLATE DREAM CAKE!
Trending MILO CAKE!
MILO ICE CREAM RECIPE:
CONDENSED MILK BUTTERCREAM RECIPE:
BOILED ICING:
NO BAKE YEMA CAKE RECIPE:
MINI CHEESECAKE RECIPE:
BLACK FOREST CAKE FLOAT RECIPE:
MUSIC:
• Safety Net
• Jenny's Theme – Jenny's Theme by Audionautix is licensed under a Creative Commons Attribution license ()
Artist:
• Parkside