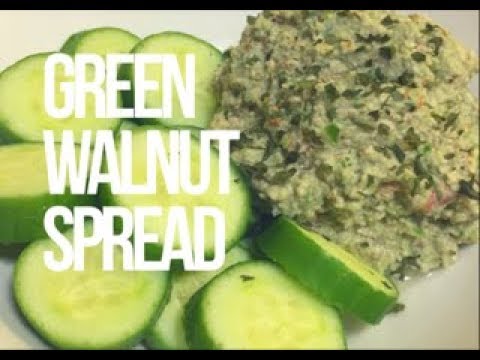 Here is a Healthy Raw Vegan Snack you will love. It's a delicious Walnut Spread Recipe that is great for after work or after school!
Ingredients:
1/4 cup walnuts
2 garlic cloves
1 shallot clove
juice of one lime
1/2 large green pepper
5 grape tomatoes
1 tsp apple cider vinegar
2 pinches of salt and pepper
Directions:
Combine in a food processor.
Serve with thickly sliced cucumber or anything you would like to spread it on. Would be amazing on toast, plantain chips or tortilla chips as well.
Earrings provided by: scheme of things, Check them out on Instagram @schemeofthings
Subscribe to my channel for more! Tap the notification bell next to the subscribe button so you never miss a video.
www.youtube.com/c/NaturalVeganMama1
My Vegan Kitchen Tools
*Hamilton Beach 10-Cup Food Processor, with Bowl Scraper
*Veggetti Spiral Vegetable Slicer, Makes Veggie Pasta
*This book has helped me on my vegan journey:
The Happy Vegan: A Guide to Living a Long, Healthy, and Successful Life By: Russell Simmons
Before I tell you more about this vegan channel, I want you to know that I post vegan videos every Sunday. I am committed to sharing vegan recipes, tips and my vegan journey with you because I know how important it is to have that support. I am a black vegan mom and I want to see more of us sharing our vegan journey. Well friends, this channel is all about supporting you on your vegan journey. On this channel you will find vegan recipes, vegan grocery hauls, vegan tips and lots of support for you on your vegan journey. No judgment here. I am here to support you no matter where you are on your vegan journey. Contact me with any questions here: [email protected]
Today is a great day to go vegan!
Get 10 Easy Steps To Create A Vegan Meal Plan FREE!
Let's socialize!
Facebook:
Instagram:
Twitter:
*amazon affiliate
Music bensound.com If you would like to support me, you can donate and help me to keep making videos. Donate here: