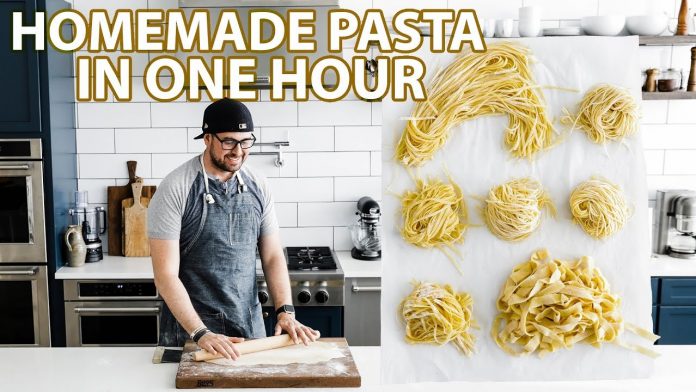 Learn how to make homemade pasta from scratch in just 1 hour and only using 3 ingredients right from your own kitchen.
Homemade pasta is infinitely better than anything that comes from a package and I'm going to show you why!
Ingredients for this recipe:
560 grams 00 or All-Purpose flour (4 cups + 3 tbsp)
140 grams semolina flour (3/4 cup + 1 ½ tbsp)
Serves 12
Prep Time: 30 minutes
Resting Time: 30 minutes
Procedures:
1. Sift together the flours onto a clean surface and then form a well with it.
2. Add the eggs to the center of the well and whisk with a fork until combined and then slowly begin to add in the flour from the edges.
3. Once the egg and flour are combined use a pastry knife to scrape the surface to bring it all together to form a dough.
4. Knead for 12 to 15 minutes before wrapping in plastic and chilling in the refrigerator for 30 minutes.
5. Remove the plastic from the dough and cut it into 3 pieces.
6. Flatten 1 of the pieces of the dough with your hands and flour it lightly. Run it through the hand crank pasta maker on the 0 setting 3 times. Cut the dough in half.
7. Turn the crank to 3 and run it through 3 times.
8. Last, run it through on setting 6 twice. Dust with flour and place on a clean surface. Repeat the process with the remaining 2 dough balls.
9. Cut the dough ever 12"-14" inches long, dust it with flour on both sides and then run it through the spaghetti attachment or whatever desired noodle attachment you'd like. Dust again with flour and form it into a small ball and place it on a sheet tray lined with parchment paper and rest it for 15 more minutes so that it dries out a bit before cooking or storing.
CHEF NOTES:
• Do not use just semolina or kamut flour as the dough will be too hard.
• Rule of thumb is 1 egg per 100 grams of flour or heaping ¾ cup of flour
• You can also dry your pasta on a drying rack.
• STORING AND FREEZING HOMEMADE PASTA: After the pasta has been rolled into little balls and dried for 10-15 minutes cover in plastic wrap and refrigerate for up to 3 days. You can also freeze wrapped in plastic wrap for up to 2 months. If you are freezing you can add straight to boiling salted water from the freezer to cook.