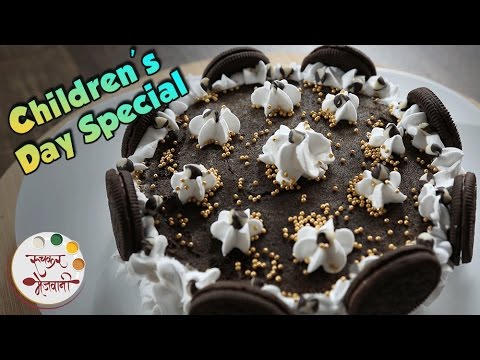 On the upcoming occasion of Children's Day, learn how to make delicious easy Oreo Cake at home from our chef Archana on Ruchkar Mejwani. This yummy sweet dessert cake is prepared from Oreo chocolate biscuits and fresh whipped cream which is surely a hit among kids.
Ingredients:
20 Oreo Chocolate Biscuits
1/4th Litre Milk
4 tbsp Powdered Sugar
2 pinch of Baking Powder
Whipped Cream for garnishing
Golden Color Sprinkles for garnishing
Oreo Chocolate Biscuits for garnishing
Method:
– Pre heat the oven for 5 minutes.
– In a mixer grinder add oreo chocolate biscuits and grind them.
– Then add powdered sugar and grind everything again. Remove the mixture in a large bowl.
– To the mixture add milk & baking powder. Mix well.
– Pour the mixture in a greased cake tin. Layer it properly and tap the tin twice.
– Put the cake tin in the oven and bake it on 180 degrees for 20 minutes.
– Once the cake has cool down unmould it.
– Garnish it with fresh whipped cream, golden color sprinkles and chocolate biscuits.
– Yummy eggless Oreo Cake is ready!
Subscribe & Stay Tuned:
For Facebook Updates:
Twitter:
Join us on G+ :