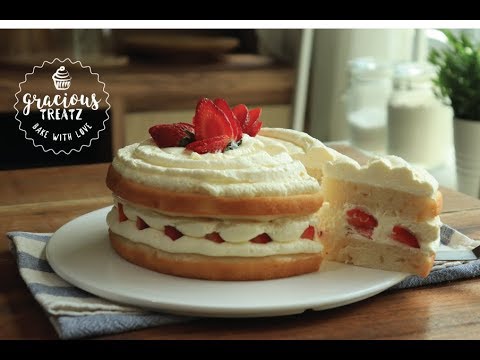 Eggless Tres Leches – A very forgiving cake. I did an egg version last week, so this week eggless version. Since I did the traditional rectangular shape for the egg, I decided to go for 2 layer round cake for the eggless. I hope you'll be inspired to make this one. Enjoy!
FOR FULL RECIPE, please visit my blog at
Ingredients:
– Eggless Cake
182g (1 ½ cup + 2 tbsp) cake flour
1 ½ tsp baking powder
100g (1/2 cup) fine sugar
90g (1/4 cup + 2 tbsp) plain yogurt
85g (1/4 cup + 2 tbsp) vegetable oil
1 tsp vanilla extract
90g (1/4 cup + 2 tbsp) whole milk
– 3 Milk Bath
60g (1/4 cup) evaporated milk
60g (1/4 cup) whole milk
40g (2 tbsp) condensed milk
– Frosting
300g (1 ¼ cup) whipping cream
Instructions:
– Eggless Cake
1. Preheat oven at 180°C / 355°F.
2. In a large bowl, sift flour and baking powder. Set aside.
3. In another large bowl, add sugar, yogurt and salt. Mix for couple minutes and the sugar almost dissolved.
4. Add oil and vanilla extract. Mix until well combined.
5. Add in the milk in a few batches, and alternate with the sifted flour. Add in the sifted flour in a few batches, alternate with the milk.
6. Grease 2 7-inch pans and line with parchment papers.
7. Divide the batter into the 2 pans. Using a weighing scale is optional.
8. Bake in preheated oven at 180°C / 355°F for 20-25 min.
9. Remove the parchment papers and let it rest for cooling.
– 3 Milk Bath
10. Add all the 3 milks into a jug and give it a quick whisk to combine.
11. Place each of the cakes back into pans. Divide and pour the 3 milk into the pans. Let it soak for 30 min to 1 hour.
– Frosting
12. Mix the whipping cream until stiff peaks form.
13. Gently remove the soaked cakes from the pan, and start assembling the cakes.
Follow me at:
Instagram: @gracioustreatz
Email: gracioustreatz@gmail.com
Background music:
Title : 늦봄의 햇살 by Bgm President