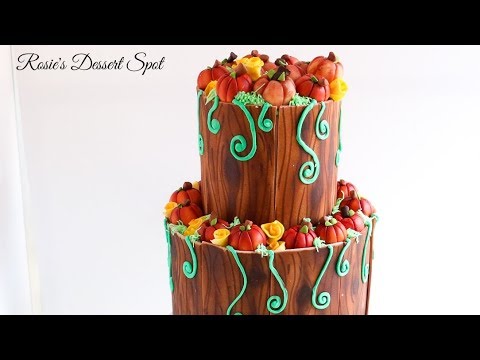 In this cake decorating tutorial, I demonstrate how to make a delicious fall inspired cake. The fall inspired flavours in this cake recipe are apple apple with a chai spiced frosting. Enjoy!
Don't forget to check out Lorelie's collaboration video here:
Lorelie's channel:
THE GORGEOUS CAKES FEATURED AT THE END OF THIS VIDEO ARE FROM:
If you are enjoying these videos and would love to see more free and valuable cake decorating tutorials on this Channel, check out my Patreon page for awesome perks and rewards and help me to continue bringing you guys fabulous and free content each week. Visit:
To order your personalized cake toppers, visit:
WANT TO LEARN CAKE DECORATING AND BE IN THE KNOW FOR UPCOMING CLASSES, EVENTS AND ONLINE SALES?
sign up here to be updated on all the above:
For more dessert inspiration and dessert sneak peeks, visit:
In these video tutorials, I normally use Bakels Premixes to save on time.
(Bakels is a bakery grade cake premix. Another great one is Allied Mills)
If you prefer to bake from scratch, I do have a range of awesome cake recipes here which convert to cupcake recipes very nicely too.
MUD CAKE:
WHITE CHOCOLATE MUD:
CHOCOLATE BUTTER BASED CAKE:
RED VELVET BUTTER BASED CAKE:
VANILLA BUTTER BASED CAKE:
I use these butter based cakes above because they are sturdy under fondant and stable at room temperature, as are the muds.
SOFT SPONGE CAKE:
AMERICAN BUTTERCREAM RECIPE (great under fondant):
HYBRID BUTTERCREAM / SHORTENING AND BUTTER BASED BUTTERCREAM (not ideal under fondant, but great for warmer conditions):
SWISS MERINGUE BUTTERCREAM:
ULTIMATE GANACHE RECIPES:
RECIPE FOR THE APPLE AND CHAI SPICED CAKE:
1 + 1/2 cup unsalted butter
3 cup caster sugar
6 eggs
4 teaspoons vanilla extract
pinch salt
3 and 3/4 cup plain flour
1 + 1/2 teaspoon baking soda
1 teaspoon baking powder
2 teaspoons cinnamon powder / ground cinnamon
4 tablespoons Spiced Chai Tea Powder
6 tablespoons sour cream
3/4 cup buttermilk
I baked my cakes at 180 degrees Celsius for 55 minutes (the 5 inch cakes) and 1 hour and 20 minutes (the 7 inch cakes).
FOR THE APPLES IN OUR CAKE BATTER:
7 Pink Lady Apples
1/2 cup water
1 cup caster sugar
2 teaspoons cinnamon powder
juice of 1 lemon
1/4 cup honey
pinch of salt
2 tablespoons Spiced Chai Tea Powder
combine the water, diced apple pieces and sugar in a saucepan. stir occasionally on medium heat and allow apples to cook and carken (about 7 ti 10 minutes). Add in cinnamon powder, pinch f salt, honey, and lemon juice and stir. Cook for an additional 5 minutes. Mix in Spiced Chai Tea Powder. Toss and cook for an additional few minutes, until water has completely evaporated to leave a stringy and thick syrup. Transfer to a bowl to cool.
PIPING TIPS USED:
Fur tip (#233 by Wilton)
circle piping tip (#3 or #4 will do the trick)
Thank you so much for tuning in! And if you are coming down from Lorelie's channel, hello and welcome! This particular cake will be going on display at my grandmothers house, replacing an old one that I made 2 years ago. This was the perfect opportunity what with fall upon you guys over in the US. Thank you so much to Lorelie for the collab opportunity! If you haven't already, do check out her video and let her know Rosie sent you 😉 and if you recreate these cakes, please do tag us! Tag #rosiesdessertspot for your chance to be featured in a future video. See you guys again on Thursday for our livestream session! Bye for now xx
With love,
Rosie
****** A special thank you to these AMAZING Patrons who are supporting this channel through Patreon. Because of your help and other awesome supporters on Patreon, I can continue to create free videos for the community, teach my passion and continue to hopefully inspire others******
Connie Moore
Zena Warwar
Shakeara Sikder
Laura Coulter
Belinda Ellison
Carmela
For business enquiries, please contact: rosiesdessertspot@gmail.com