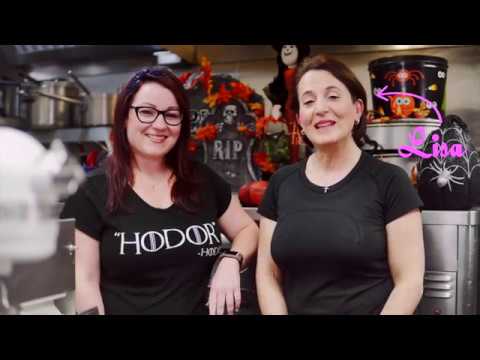 Vanilla Cake Recipe
½ Cup (4 oz ) butter
½ Cup (4 oz) vegetable oil
1 ½ Cup (10.5 oz) super-fine granulated sugar
4 eggs
2 tsp. vanilla extract
2 ¾ Cup (13 oz) all-purpose flour, unbleached
1 Tbsp baking powder
¼ tsp. salt
1 ¼ Cup (12 oz) buttermilk
Preheat oven 350 degrees.
Have all ingredients at room temp.
In mixer bowl with whisk attachment, combine butter, oil and sugar. Mix well until smooth. Add eggs one at a time, scrape down bowl between additions. Add vanilla.
Combine flour, baking powder and salt and add to mixer with mixer on low speed.
Add buttermilk.
Scrape bowl well.
Divide batter between 3-6" cake pans that have the bottom lined with parchment paper and the sides sprayed with non-stick food spray.
Place cakes in oven and bake 10-12 minutes, until light golden brown.
—————————–
Part 1 (The Batter) @ 0:33
Part 2 (The Decoration) @ 02:22
Part 3 (The Sculpting) @ 05:15