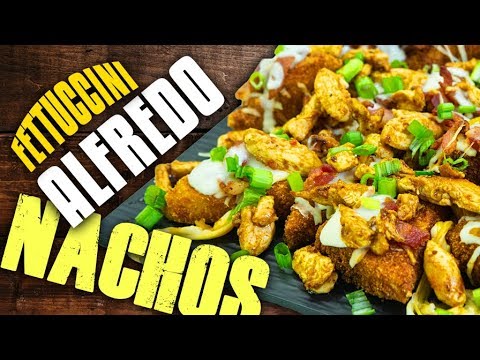 This week Ameer will teach how to make this creative master piece " Fettuccini Alfredo Nachos"
Ingredients
1 Package of fettuccine noodles
2 Jars of alfredo sauce
1 Pack of bacon
5 to 6 Chicken filets
1 Package of fajita seasoning
2 Cups of breadcrumbs
2 Cups of flour
3 Eggs
Diced green onions
Vegetable oil
1 Cup shredded cheese
Tools
1 Cutting board
1 Chef knife
1 Small sauce pan
2 Large pots
2 Frying pans
1 Wooden spoon
1 Oven tray
Parchment paper
1 Metal slotted spoon
1 Strainer
Step 1
Boil noodles for 8 to 10 minutes then cool under cold water. Mix noodles with 1 egg and Alfredo sauce.
Step 2
Put noodles on an oven tray lined with parchment paper pressing firmly to compress tight then place in the freezer.
Step 3
Cook bacon bits on a frying pan on medium heat for 8 to 10 minutes.
Step 3
Cook chicken bits in a frying pan with vegetable oil until no longer pink then add fajita seasoning and simmer for 5 minutes.
Step 4
Remove the noodles from the freezer then cut the noodles in the shape of nacho chips.
Step 5
Coat the noodles in flour then dip in egg wash and coat in breadcrumbs. Heat oil to 350 degrees farenhiet then deep fry 2 to 3 nachos at a time for 2 minutes until golden brown.
Step 6
Garnish nachos with cheese then heat in the oven. Warm sauce and pour over nachos then top with chicken, bacon bits and green onion.
Check out Harley's Video Diaries –
#YoutubeCooking #Cooking #Food #Recipes
We have a YouTubeGaming Channel:
Follow the guys!
@harleyplays @chefatari @epicgrossguy @cooldan @itsmikesantos
LIKE/FAVORITE and SHARE for new meals every week!
Fetticcini Alfredo Nachos – Handle It