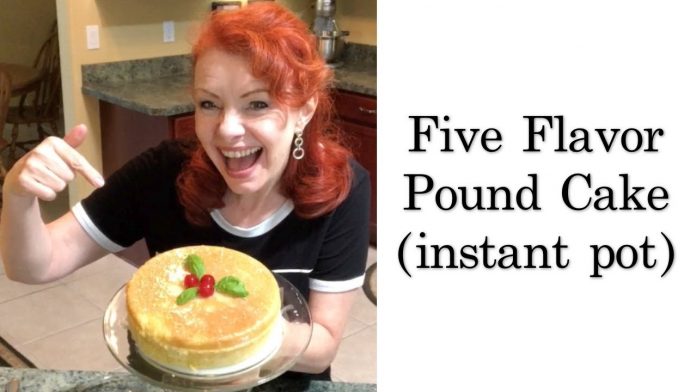 Check out this Five Flavor Pound Cake I made in the instant pot. It is so moist and delicious. I used my mom's sour cream pound cake recipe and tweaked it a bit to make it my own and added five flavors. My full recipe is down below. Would love to connect with you. Please leave me comments and let me know what you've been cooking lately. Thanks!
You can find my pans in pot cake pan here:
If pans in pot is out of stock you can order these:
The 8 quart instant pot can be found here:
The 6 quart instant pot can be found here:
You can find my kitchen aid mixer here:
King Arthur Gluten Free Flour can be found here:
——-DISCLAIMER——-
This video and/or description contain amazon affiliate links. These links have the potential to earn me a small commission which is what helps to keep the channel running and helps me have the opportunity to continue making videos such as this one. Thank you so much for your support.
My Instant Pot Five Flavor Pound Cake
(Double recipe for 2 layers or large cake)
¼ tsp. of salt
¼ tsp. of baking soda
1 stick of butter
2 cups of all purpose flour (sifted)
1 ½ cups of sugar
½ cup of sour cream
½ cup of milk
½ tsp. Of vanilla extract
½ tsp of orange extract
½ tsp cherry extract
½ tsp almond extract
10 drops of lemon essential oil (food grade)
1 large lemon zested
3 eggs
Sift flour before measuring it.
Cream butter and sugar.
Add milk with 5 flavors (vanilla, orange, cherry, almond, and lemon) and zest of one large lemon.
Add a little flour and mix, a little sour cream and mix, and one egg and mix. Repeat the process until you've used all three eggs, sour cream, and flour.
Spray your pan and flour it. Get rid of excess flour.
Pour batter into your pan(s).
Add a cup of hot water to your instant pot.
Cover cake pan with tin foil unless using a pan with a lid. Place it on trivet inside the instant pot.
Using your manual or pressure cook or cake button set time for 65 minutes.
Allow the cake to do a self release. Let it cool for about 15 minutes before removing from pan.
Drizzle:
1 cup of powdered sugar
¼ cup of milk
¼ stick of melted butter
1/3 tsp made up of almond, cherry, and orange extract
Whisk these ingredients together until evenly combined. Drizzle over cake.
Enjoy!
Music by bensound.