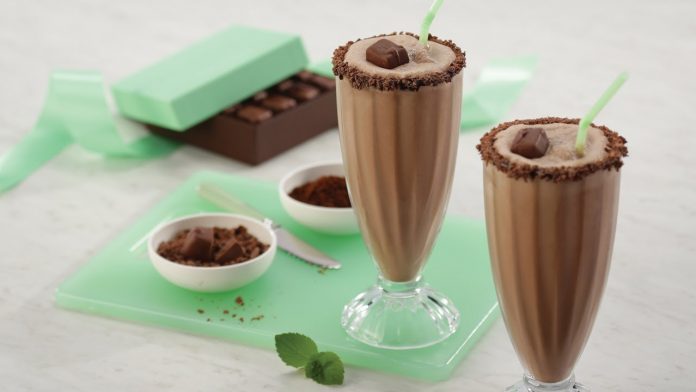 There's nothing cooler than a Frango Mint Chocolate Milkshake!
Serves 2
What You'll Need:
• Chocolate ice cream, 8 scoops (equaling 4 cups)
• 8 Frango Mints, very finely chopped (2 Frango Mints per cup, your choice of Frango dark or milk chocolate). Add more or less for taste.
• Whole milk, 2 cups
• 1 Tablespoon of instant espresso
• Chocolate syrup
• Blender
• 2 Milk shake glasses and straws
Instructions:
Fine chop Frango mints. Dip rim of glasses in chocolate syrup. Then, dip glass in finely chopped Frango's. Set glasses aside.
Add instant espresso into the whole milk. Pour into blender. Add ice cream.
Blend until smooth. Add finely chopped Frango's, blend briefly.
Pour into rimmed glasses. Garnish with Frango mint.
Enjoy and share a photo with us!
#FrangoChocolate