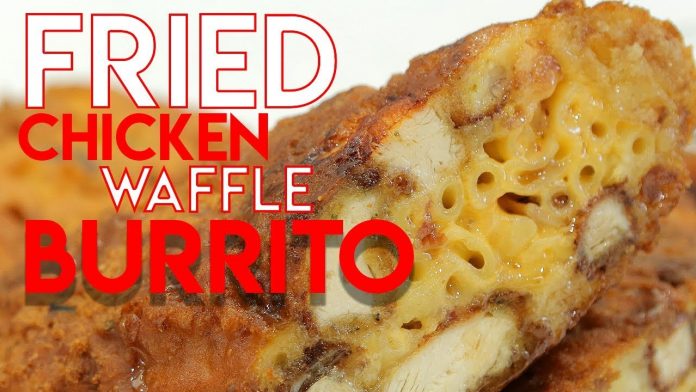 Let Ameer teach you how to make a delicious recipe of Fried Chicken Waffle Burritos!
Ingredients
6 to 8 chicken breast filets
2 Cups of flour
3 Eggs
2 Cups of bread crumbs
2 Cups of elbow noodles
1/3 Cup of milk
18 to 24 slices of cheese
1 Pack of bacon
4 store bought waffles
Waffle batter
Wet mix
1/2 a cup of melted butter
3 eggs
1 Tbsp of vanilla extract
1 1/2 cups of buttermilk.
Dry mix
3 Cups of flour
1 Tbsp baking soda
2 Tbsp of baking powder
1 Tsp sugar
1 Tsp salt
Vegetable oil for deep fry
Mapple Syrup or dipping sauce of your choice
Tools
1 Chef knife
1 Cutting board
3 Small mixing bowls
2 Large mixing bowls
2 Frying pans
1 Large pot
1 Small sauce pan
1 Whisk
1 Wooden spoon
1 Metal slotted spoon
Parchment paper
Cooking spray
1 Oven tray
Step 1
Cut chicken breast Into small pieces. Coat in flour then dip in egg wash and cover in bread crumbs. Heat oil in a frying pan enough to cover the base and fry chicken for 3 to 6 minutes until golden brown.
Step 2
Boil water and cook 2 cups of elbow noodles for 6 to 10 minutes until tender. In a small sauce pan warm 1/3 cup of milk and begin melting cheese slices on low heat. To avoid burning the cheese sauce stir constantly.
Step 3
Cut bacon Into bits and cook bacon in a frying pan for 8 to 10 minutes on medium heat. Combine noodles, Cheese sauce and bacon bits in a bowl and mix well.
Step 4
Toast waffles in a toaster/toaster oven then cut Into small pieces.
Step 5
Prepare in a mixing bowl 1 1/2 cups of buttermilk, 1/2 cup of melted butter, 3 eggs, 1 Tbsp of vanilla extract. In a second bowl add 3 cups of flour, 1 Tsp of sugar, 1 Tsp of salt, 2 Tbsp baking powder, and 1 Tbsp of baking soda then combine in wet mixture until a thick batter forms.
Step 6
Mix waffles and chicken into waffle batter then pour onto an oiled piece of parchment paper forming a square and fill with mac and cheese then begin to roll to form a burrito then place in the freezer for 45 minutes to an hour until solid.
Step 7
Heat oil to 350 degrees Fahrenheit and deep fry each burrito for 6 to 8 minutes until golden brown then let cool and serve with mapple syrup or dipping sauce of your choice.
Check out Harley's Video Diaries –
We have a #YouTubeGaming Channel:
Follow the guys!
@harleyplays @chefatari @epicgrossguy @cooldan @itsmikesantos
LIKE/FAVORITE and SHARE for new meals every week!
Fried Chicken Waffle Burrito – Epic Meal Time