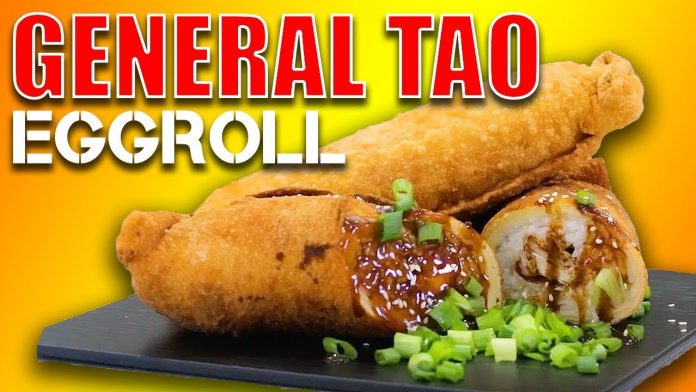 Dan teaches you how to make a General Tao Eggroll! It's the perfect snack and it's gosh darn delicious!
Ingredients
4 to 6 Chicken thighs
2 Tbsp soy sauce
1 Tbsp Chinese rice wine
2 Egg whites
1 Pack of bacon
2 Cups of water
2 Cups of white rice
3/4 Cup of rice vinegar
1 Cup of sugar
2 Cups of cornstarch
2 Tbsp chili flakes
Salt and pepper
2 Tbsp minced garlic
Vegetable oil for shallow fry
3 Tbsp General Tao
1 Tbsp Sesame seeds
3 Tbsp green onions
1 Egg
1/2 cup of cold water
1 Tbsp of salt
2 cups of flour
Oil for shallow fry and deep fry
Tools
2 Mixing bowls
2 Frying pans
1 Chef knife
1 Cutting board
2 Small sauce pans
1 Wooden spoon
1 Metal slotted spoon
1 Rolling pin
Parchment paper
Step1
Cut chicken thighs into strips then marinate in 2 Tbsp soy sauce, 1 Tbsp Chinese rice wine and 2 egg whites for 10 minute's.
Step 2
Cut bacon into bits and cook in a frying pan on medium heat for 10 minutes.
Step 3
In a small sauce pan bring 2 cups of water to a boil then add 2 cups of white rice reduce heat then cover with a lid and let sit for 7 minutes.
Step 4
In a small sauce pan bring 3/4 cup of rice vinegar to a boil and add 1 cup of sugar stir well until sugar dissolves then mix with rice and let sit for 10 minutes.
Step 5
In a mixing bowl add 2 cups of cornstarch, 2 Tbsp chili flakes, salt and pepper then mix well. Add 2 Tbsp of minced garlic to chicken thighs then coat chicken in breading and shallow fry in a pan with vegetable oil heated to 350 degrees Fahrenheit for 5 to 8 minutes.
Step 6
Once the chicken is cooked mix with 3 Tbsp of General Tao sauce, bacon bits, 1 Tbsp sesame seeds and 3 Tbsp diced green onions then toss lightly.
Step 7
Lay down a sheet of sticky rice on parchment paper and place pieces of general Tao in the center then fold rice over to cover completely and place in the freezer for 10 minutes.
Step 8
In a mixing bowl add 1 egg, 1/2 cup of cold water, 1 Tbsp of salt and 2 cups of flour then mix well until a dough forms. Cut the dough in half then flour a surface and roll out dough to 1/2 inch thick. Take a rice log and wrap in dough then deep fry in oil at 350 degrees Fahrenheit for 5 to 8 minutes.
Check out Harley's Video Diaries –
We have a #YouTubeGaming Channel:
Follow the guys!
@harleyplays @chefatari @epicgrossguy @cooldan @itsmikesantos
LIKE/FAVORITE and SHARE for new meals every week!
General Tao Egg Roll – Handle It