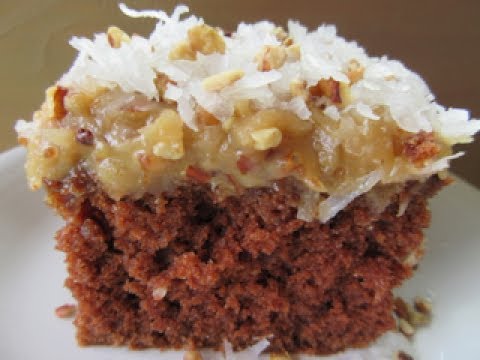 The GERMAN CHOCOLATE CAKE recipe appeared in the Dallas Morning News as "Recipe of the Day" back on June 3, 1975. This year and month marks the 60th anniversary of the GERMAN CHOCOLATE CAKE…although, it is not from Germany!! In 1852 Sam German created the mild dark baking chocolate bar for Baker's Chocolate Company. Today, Deronda is using Bakers German's sweet chocolate baking bar and the recipe on the Baker's box to create this GERMAN CHOCOLATE CAKE!! Recipes below by clicking on SHOW MORE…
BAKER'S GERMAN CAKE
Lightly grease and flour a 13″ by 9″ baking pan. Set aside.
Preheat oven to 350 degrees F.
1 pkg. (4 oz.) Baker's German's sweet chocolate, separated into squares
3/4 cups butter, cubed
1- 1/2 cups sugar
3 eggs
1 teaspoon vanilla
2 cups all-purpose flour (us 1/2 cup to mix baking soda and salt in)
1 teaspoon baking soda
1/4 teaspoon salt
1 cup whole buttermilk
1. Melt in a small sauce pan, over medium-low heat, butter and chocolate. Remove from heat. Use microwave if desire.
2. Add sugar to melted chocolate mixture. With a hand mixer, on medium speed, beat until smooth. About 1 minute. Beat in one egg at a time. Add vanilla extract and beat until well blended.
3. Remove 1/2 cup of flour to small bowl. Add baking soda and salt. Whisk until well blended. Add to chocolate cake mixture and beat until smooth. Alternate the remaining flour and buttermilk (about 1/3 at a time) to the cake mixture while continuing to beat. Cake batter will be thick in texture.
4. Pour into prepared baking pan. Bake for 50 minutes, or until a toothpick inserted into the thickest part of cake come out clean. I the toothpick come out with cake batter attached bake cake an additional 3-5 minutes.
5. Allow cake to cool on cooling rack.
COCONUT PECAN FROSTING
4 egg, yokes
1 can (12 oz.) evaporated milk
1-1/2 teaspoon vanilla
1-1/2 cups sugar
3/4 cups butter or margarine
2-2/3 cups sweetened coconut flakes
1-1/2 cups pecan, chopped
1. Whisk egg yokes, milk, and vanilla, in a 2-quart sauce pan, until well blended. Add sugar and butter; cook over medium heat for 12 minutes or until thickened and golden brown, stirring constantly. Remove from heat.
2. Add in pecans and coconut. Cool until desired spreading consistency.
Note: Makes enough to frost top and sides of 3 (8- or 9- inch) cake layers, or to frost the top of a 13″ by 9″ cake, or will frost 36 cupcakes.
ENJOY your homemade GERMAN CHOCOLATE CAKE & FROSTING!!
JOIN ME ON…
Instagram:
Pinterest:
Twitter:
Deronda's channel offers many different foods that are easy and simple to make, yet delicious to eat…Appetizers, Main Dishes, Desserts, Snacks, Breads, Tips, and much more from start to finish!! An inspirational channel for the CHEF in all of us.
Made with LOVE 🙂
Music by…Kevin MacLeon ()