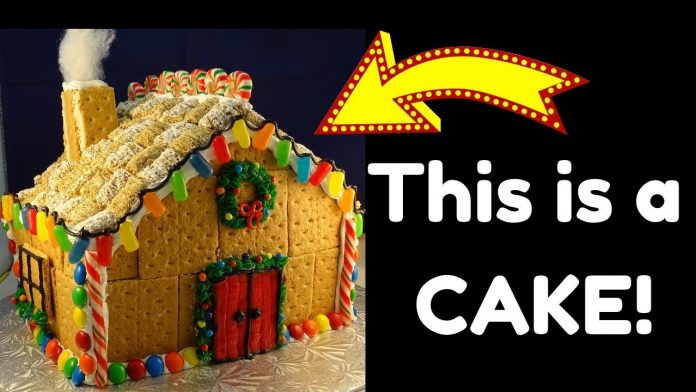 This delicious cake is decorated to look like a gingerbread house.
I used about 15 or so graham wafers for this, most of a box. Best to have extras for when pieces break.
Carvable chocolate cake recipe:
You need two of these cakes ( 2-9×13″ cakes)
1 chocolate cake mix (I used Devil's food chocolate)
1 package chocolate pudding mix (4 serving size)
3 eggs
1/2 cup water
1/3 cup plus two tablespoons vegetable oil
1 cup sour cream
Put all the ingredients in a large bowl and mix on low until combined and then on medium/high for two minutes more. Scrape the sides and the bottom of the bowl to make sure all ingredients get incorporated. Pour batter into a well greased 9×13 inch pan that has been lined with parchment paper.
Bake at 350F for 25-30 minutes until a toothpick inserted in the center comes out clean (or with only a few moist crumbs and the center springs back slightly when pressed)
Let cool in pan for a few minutes and then turn out onto cooling rack(s)
This cake is dense and fudgy and delicious, it is a bit thicker than regular chocolate cake but it is very good and excellent for sculpting.
Chocolate frosting recipe:
The only thing I do different is use salted butter and omit the salt in the recipe.
Buttercream frosting (I made a double recipe and had some leftover).
The only thing I do different is use salted butter and omit the salt in the recipe.
Royale frosting (only made a half recipe and had lots left over).
1/2 cup meringue powder
2.5 oz of hot water
2.5 cups powdered sugar
Beat water and meringue powder together until stiff peaks form.
Beat in powdered sugar. Add more sugar to get a stiffer texture if desired.
INFO ABOUT ME 🙂
My name is Tammy and I live in Northeastern Ontario Canada. I am a married, full-time working mom of one teenaged son.
Contact me here:
Facebook
Pinterest
Twitter:
Instagram: