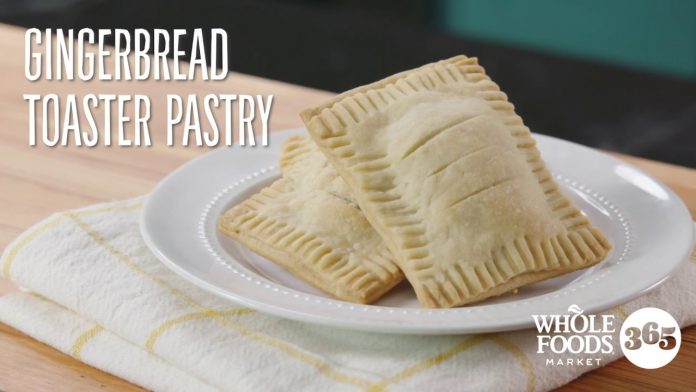 Gingerbread Toaster Pastries
Makes 8 servings
These pastries are perfect for breakfast or an after-school snack, but they're also a sweet enough treat for a cozy dessert. You can make them a few days ahead, and then gently reheat them in the oven, toaster, or toaster oven.
2 1/2 cups plus 1 teaspoon all-purpose flour, plus more for rolling
1/2 teaspoon kosher salt
1 cup (2 sticks) unsalted butter, cut into cubes
1/2 cup ice cold water, plus more as needed
1/4 cup dark brown sugar
1/4 teaspoon ground cloves
1/2 teaspoon grated nutmeg
3/4 teaspoon ground ginger
3/4 teaspoon ground cinnamon
1. In a large bowl, mix together 2 1/2 cups flour and salt. Add the butter and toss to coat. Using your fingers, rub the butter into the flour until it is walnut-sized clumps form. Drizzle the water a few tablespoons at a time over the flour mixture and mix just until the dough comes together. You may not need all of the water, or you may need to add another tablespoon or so if it is too dry.
2. Divide the dough into two discs, wrap in plastic wrap and refrigerate for at least 30 minutes.
3. Meanwhile, combine sugar, cloves, nutmeg, ginger, cinnamon and the remaining 1 teaspoon flour. Set aside.
4. Preheat the oven to 350°F. Remove the dough from the refrigerator and rest until it is pliable, about 15 minutes. Working on disc at a time, on a floured surface, roll the dough into a rectangle that is about 14 by 10 inches. Trim the edges to make a neat rectangle, then cut the dough into eight even rectangles.
5. Spoon about 1 tablespoon of the spice mixture onto the center of four rectangles. Brush the edges of the rectangles with water and top each with one of the other four rectangles, fully covering the filling. Use a fork to seal the edges and transfer to a parchment paper-lined baking sheet. Repeat with the remaining dough and filling.
6. Use a sharp knife to score three slits in the top of the pastries. Bake until the edges are golden brown and the dough is matte all over, about 25 minutes. Cool slightly before serving.
Share your creations with us with #GoodThings365
About Whole Foods Market 365:
Whole Foods Market 365™ is changing the grocery shopping experience. Committed to making healthy living easy, 365 provides simple, affordable and convenient everyday shopping to neighborhoods nationwide without sacrificing the quality standards and dedication to food transparency that Whole Foods Market pioneered. Whole Foods Market 365 features a thoughtful product selection curated for convenience, including the 365 Everyday Value® brand customers know and love, alongside other high-quality brands and new offerings from innovative supplier partners.