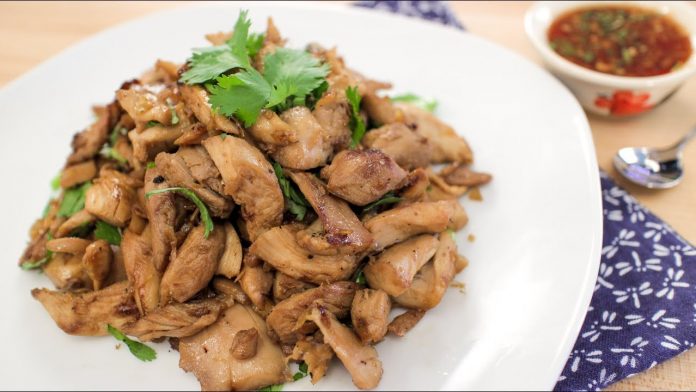 Not only is this one of my all-time favourite chicken dishes, it's also one of the most meaningful. My grandmother makes this for me every time I go to Thailand—a non-negotiable tradition. Usually the chicken she uses is the leftover from Hainanese Chicken Rice (link to that video below), but you can make it directly by simply poaching up some chicken first as shown in this video. OR actually, you should intentionally too much Hainanese chicken rice, and get 2 epic meals out of it!
The chicken is twice cooked, and tossed with ginger, garlic, soy sauce, and palm sugar for a sweet-salty-umami flavour that is unparallelled simplicity. The kids will love it, and for the adults, make the spicy-tart dipping sauce and it's a flavour explosion in your mouth! Poach the chicken in advance, keep it in the fridge, and dinner will be ready in just a few minutes!
DIPPING SAUCE RECIPE (Hainanese Chicken Rice video):
SIMPLIFIED GAI KEM VIDEO (once-cooked):
WRITTEN RECIPE:
GEAR, TOOLS, INGREDIENTS I USE:
SUPPORT THE SHOW: If you love the show, check out our Patreon page!
MY COOKBOOK:
CONNECT WITH ME!
About Pai:
Pailin "Pai" Chongchitnant is the author of the Hot Thai Kitchen cookbook, co-host of a Canadian TV series One World Kitchen on Gusto TV, and creator and host of the YouTube channel Pailin's Kitchen.
Pai was born and raised in southern Thailand where she spent much of her "playtime" in the kitchen. She traveled to Canada to study Nutritional Sciences at the University of British Columbia, and was later trained as a chef at Le Cordon Bleu culinary school in San Francisco.
After working in both Western and Thai professional kitchens, she decided that her passion really lies in educating and empowering others to cook at home via YouTube videos, her cookbook, and cooking classes. She currently lives in Vancouver, and goes to Thailand every year to visit her family. Visit her at