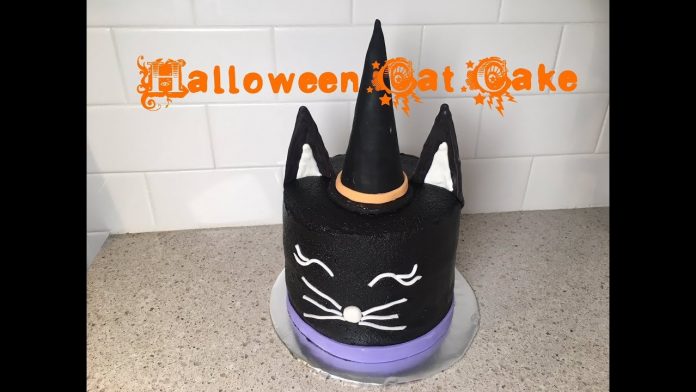 HALLOWEEN CAT CAKE
TWITTER :
INSTAGRAM :
THINGS NEEDED:
-8 IN CAKE BOARD
-BLACK & WHITE MELTING CHOCOLATE
-ICE CREAM CONE
-2 1/2 CIRCLE COOKIE CUTTER
-PIPING BAGS
-WHITE, ORANGE, BLACK, & PURPLE
DARK CHOCOLATE CAKE RECIPE
-2 CUPS ALL PURPOSE FLOUR
-2 CUPS SUGAR
-3/4 CUP DARK CHOCOLATE COCOA POWDER
-2 TSP BAKING SODA
-1 TSP SALT
-2 LARGE EGGS
-1 CUP BUTTERMILK
-1 CUP VEGETABLE OIL
-1 1/2 TSP VANILLA EXTRACT
-1 CUP BOILING WATER
Preheat oven to 300 degrees. Line three 6 in pans with parchment paper and spray sides of pans with nonstick spray. Add all the dry ingredients and whisk together. Then add the eggs, buttermilk, vegetable oil and vanilla to the dry ingredient mixture. and mix until all ingredients are combined. Add your boiling water ( I microwaved my water for 1 1/2 minutes on high). Then add to mixture and mix completely. Divide the batter evenly and bake the cakes for 30 to 40 minutes.
DARK CHOCOLATE FROSTING
-1 1/4 CUP BUTTER
-1 1/4 CUP SHORTENING
-9 CUP POWDERED SUGAR
-2 TSP VANILLA EXTRACT
-1 CUP DARK COCOA POWDER
-1/2 CUP MILK DIVIDED
Beat together the butter and shortening until smooth. Add in half the powdered sugar and mix until its smooth , then add the vanilla and 1/4 cup of the milk and mix together. Add in the rest of the powdered sugar and add the cocoa powder, begin to mix and add in the other half of the milk until smooth.( I did not use the entire second 1/4 cup of milk but this will depend on the consistency you want your frosting to be.)Then add in your black food coloring.