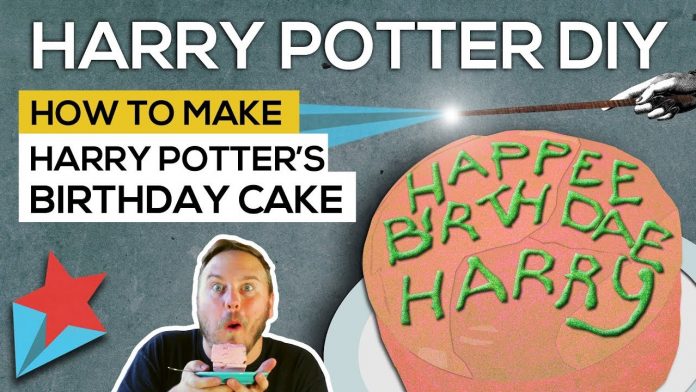 How to make Harry Potter's Birthday Cake, from the Sorcerer's Stone, with a secret ingredient! Will we make Hagrid proud? Will we sit on our cakes? Find out now in the first video of my new channel!
How old is Harry anyway? What should I make next? Let me know in the comments below.
New videos every Monday, click SUBSCRIBE and the little BELL next to it to turn on notifications. Every Monday is Magical with JiffyWiz!
EPISODE RESOURCES:
HARRY POTTER BIRTHDAY CAKE VIDEO:
CAKE RECIPE:
Chocolate Cake Recipe Maglebys Copycat by Karen @ The Food Charlatan
ICING RECIPE:
1/2 cup unsalted butter, softened + 1 Tbsp melted
2 cups confectioners sugar
1 ½ tsp vanilla
2 Tbsp milk or heavy cream
2 tsp unsweetened cocoa powder
Red and green food coloring (Or remade green icing)
1. Stir together 1 Tbsp melted butter and cocoa powder until dissolved, set aside.
2. In mixing bowl, mix butter and vanilla. In 1 cup batches, add sugar to butter, beat with electric mixer until fluffy and creamy. If you are going to pipe the green from this icing, set aside about ½ cup of icing.
3. Add red food coloring, a little at the time, until you arrive at pink. Start small, you can always add more. I found it to be too bright, so adding the butter/cocoa mix took off the bright edge and made it closer to the movie version.
4. Put a small amount of icing in middle and coat the outside.
5. Add green food coloring to the small set aside until you arrive at a vibrant green. Put in piping bag with a round tip.
Use toothpicks to draw out lettering on the pink icing and trace or use one of the templates below to guide you.
Green Icing Tip:
You can use Wilton's premade green icing that comes with a tip that screws to make writing a snap. If you are really in to cake decorating, get a starter decorating kit for not much more and use your own icing. I like tip #5 or #8 for this cake.
Wilton Icing with Tip:
or
Wilton Kelly Green or Leaf Green Icing:
WIlton 3 Tip Set:
or
Wilton Starter Cake Decorating Tip Set:
ICING TEMPLATES FOR 8" or 9" CAKES:
Color-
Black and White-
Toothpick Red Dot Guide-
BONUS CAKE:
Buy a box of cake mix at the store and some strawberry icing and a Wilton premade green icing tube. Secret Ingredient: Simplicity
***************************************
ABOUT THIS CHANNEL:
Do you like Harry Potter? Of course you do. With JiffyWiz, you're a Wizard! We make magic with Harry Potter DIY: prop replicas, unboxing HP loot, Etsy store art and replicas, SFX video magic, and Wizarding World news.
Witch, Wizard, Muggle, NoMaj, Squib: everyone is welcome! Is your magic… meh? Does your cauldron cackle at your potions? Don't be duped by the false promise of Kwikspell; our course is guaranteed to make you a DIY wizard. JiffyWiz: We Make Magic.
SUBSCRIBE!
ETSY STORE:
Sometimes I make Harry Potter inspired replicas or art, for sale at my Etsy store:
CONNECT: @jiffywiz
Youtube:
Twitter:
Instagram:
Facebook:
***************************************
VIDEO GEAR:
Camera:
I use: Canon Rebel T3i. May not be available much anymore.
I recommend (good entry level DSLR camera): Canon T6i:
For those who want to upgrade: Canon EOS 80d is my pick: (note, I have never used this camera, but would love it!)
Lens:
For most shots, I use a Yongnuo YN50mm F1.8 to get that blurry background look. The rest was the standard Canon 18-55mm that comes with camera.
Sound:
Audio Recorder- I use a separate handheld audio recording device and sometimes a lavalier microphone:
Movo Zoom H1n:
JK Lavalier Mic:
Lights:
Grey Card:
LimoStudio Light Kit:
I also made Indy Mogul's DIY video light:
Software:
Adobe CS5 suite
*************************************
DISCLAIMER:
This video and description contains affiliate links, which means that if you click on one of the product links, I'll receive a small commission. This help support the channel and allows us to continue to make videos like this. Thank you for the support!
HARRY POTTER, characters, names, and related indicia are trademarks of and (C) Warner Bros. Entertainment, Inc. Harry Potter publishing Rights (C) JKR.