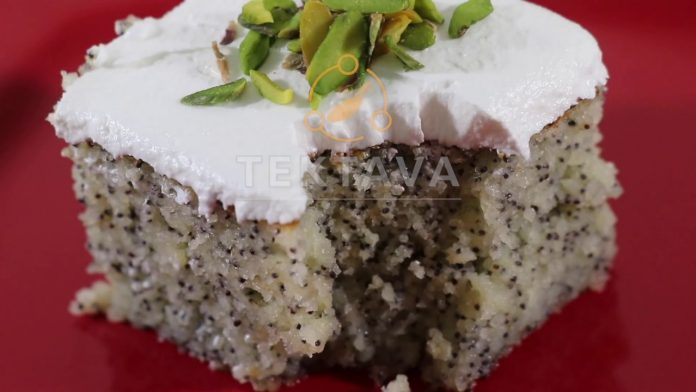 Haşhaşlı Revani Tarifi / Sweet Semolina Pastry With Poppy Seeds Recipe
Malzemeler / Ingredients
1. 4 Yumurtan / 4 Eggs
2. 1 Su bardağı Şeker / 1 Cup Sugar
3. 1 Su bardağı Sıvıyağ / 1 Cup Vegetable Oil
4. 1 Su bardağı Yoğurt / 1 Cup Yoghurt
5. 1 Su bardağı Haşhaş / 1 Cup Poppy Seeds
6. 1 Su bardağı İrmik / 1 Cup Semolina
7. 1 Paket Kabartma Tozu (10 Gr.) / 1 Packet Baking Powder (10 Gr.)
8. 1/2 Çay Kaşığı Karbonat / 1/2 Teaspoon Baking Powder
9. 2 Su bardağı Un / 2 Cups of Flour
Şerbeti için / For the Sherbet
1. 3 Su Bardağı Su / 3 Cups of Water
2. 2 Su Bardağı Şeker / 2 Cups of Sugar
3. Birkaç damla limon / Couple Drops of Lemon Juice
Krem Şanti için / For the Whippede Cream
1. 2 Paket Krem Şanti / 2 Packets of Whipped Cream
2. 1,5 Bardak Soğuk Süt / 1,5 Cup of Cold Milk
Yapılışı / Preparation
1. İlk olarak şerbeti kaynaya kadar orta ateşte kaynatın. Sonrada kısık ateşte 5 dakika kaynatın ve limon suyunu ekleyin. Birkaç dakika daha kaynatıp sonra soğumaya bırakılır. /
For the sherbet, first mix the water and sugar and bring to boil over medium heat. Then boil for 5 minutes on a low heat and add lemon juice. Boil for a few more minutes and then left to cool.
2. Revani için ilk olarak yumurta ve şekeri çırpın. Yoğurt ve sıvıyağı ekleyip çırpmaya devam edin. İrmik ve haşhaş ı ekleyip karıştırmaya devam edin. Yavaşça unu ekleyip karıştırın. En son karbonat ve kabartma tozunu ekleyip karıştırın./
For the semolina pastry, first mix egg and sugar. Add yoghurt and vegetable oil and continue to mix. Continue mixing and add semolina and poppy seeds. Slowly add the flour and continue mixing. Lastly add the baking powder and baking soda.
3. Tabanını yağladığınız borcama karışımı dikkatlice dökün. Önceden ısıtılmış 170º fırında 20 dakika pişirin. / Spread the vegetable oil to the base of your pyrex. Pour the mixture into the pyrex. Bake in a preheated 170º oven for 20 minutes.
4. Revani fırından çıkınca 5 dakika bekleyin ve eşit olarak dilimleyin. Şebeti soğuk olarak ve eşit şekilde dökün. / Wait for 5 minutes after removing semolina pastry from the oven and slice evenly. Pour the sherbet cold and evenly.
5. Dolapta 3 saat bekletin. / Chill for 3 hours.
6. Ayrı bir kapta krem şanti ve soğuk sütü kıvam alana kadar karıştırın. Tatlının üstüne yayın. Soğuk servis yapın. / In a seperate bowl mix the whipped cream and cold milk until a thick consistency. Sprean over the dessert and serve cold.
Afiyet Olsun !/ Enjoy!
Bizi Takip Edin / Follow Us On
Facebook
Instagram
Pinterest
Twitter