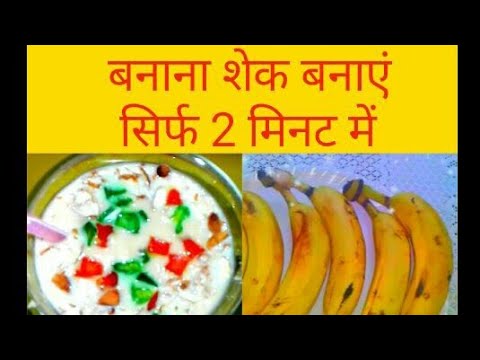 Healthy केले का शेक बनाएं सिर्फ 2 मिनट में । Easiest banana milk shake . This is a very easy way to make banana milk shake at home . I am using stored or freezed bananas for it .You can use fresh banana instead of it . I am using homemade tutti fruity and rose water for garnishing it . this is the best healthy nutritious drink for weak persons . Bananas always available at markets so its very easy to make . Include banana milk shake in diet plan of your kids .
By Rubi's Recipes
OUR OTHER CHANNELS LINKS PLEASE VISIT AND SUBSCRIBE
1. SADDI DILLI SAFARI :
2. SANA'S RASOI :
PLEASE WATCH MY OTHER USEFUL
AND INTERESTING VIDEOS TOO.
**** PLEASE CLICK HERE *****
FRESH BEANS STORAGE ;
COCONUT STORAGE TIPS ;;
POMEGRANATE JUICE BY HANDS ;
BREAD PAV IN PRESSURE COOKER ;
CAPSICUM STORAGE TIPS ;
BANANA STORAGE FOR 7 DAYS
HOW TO MAKE COCONUT MILK ;
ONION CHOPPING SKILLS ;
MOSAMI PEELING TRICKS ;
BEST COCONUT PEELING TRICK ;
50K SUBSCRIBERS THANK YOU MESSAGE ;
STORE LEMON FOR 1 YEAY :
HOW TO CUT VEGETABLE JULIENNE
KIWIFRUIT CUTTING SKILLS :
HOW TO STORE GREEN CHILLIES :
HOW TO CUT POTATOES PROPERLY :
TOMATOES STORAGE IDEAS :
HOW TO CLEAN GAS STOVE :
CONNECT WITH ME :
SUBSCRIBE FOR MORE AWESOME RECIPES :
THANKS FOR WATCHING