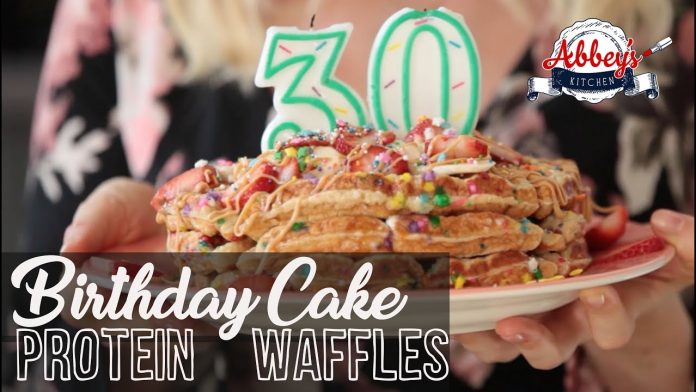 In this episode of Abbey's Kitchen, Abbey is celebrating her 30th birthday, and there's no better way to celebrate than with her Birthday Cake Protein Waffles! These waffles are super delicious and surprisingly the perfect balanced and healthy breakfast.
Let's get to this!
First, it's time to make the birthday cake protein waffle batter. To a food processor, Abbey adds gluten free oats, and process until it turns to a powder. Set aside. For a protein boost, in the food processor, add in cottage cheese and puree until it reaches a creamy like consistency. Next, add in mashed ripe banana, vanilla extract, cinnamon, salt and oat four. Puree until nice and smooth. Next, add in eggs and process until it reaches a nice creamy batter.
Preheat waffle iron and add in a healthy heaping of the batter, along with rainbow sprinkles and rainbow candies, because hey it's Abbey's birthday!
Cook until golden brown and stack them high with greek yoghurt, sliced bananas, strawberries, a drizzle of almond butter, lots more rainbow sprinkles and maple syrup.
Enjoy!
So, Abbey may not be drinking this year, but these birthday cake protein waffles are the best way to get the party started!
For more tips on staying healthy, recipes, dieting, and information fit for consumption by foodies everywhere stop by Abbey's blog.
Ingredients
2 cups Gluten Free Oats
2 cups Cottage Cheese
1 Ripe Large Banana, Mashed
1 tsp Vanilla Extract
1 tsp Cinnamon
1/8 tsp Salt
4 Whole Eggs
4 Egg Whites
Rainbow Sprinkles
Rainbow Candies
Greek Yoghurt
Banana, Sliced,
Strawberry, Sliced
Natural Almond Butter
Maple Syrup