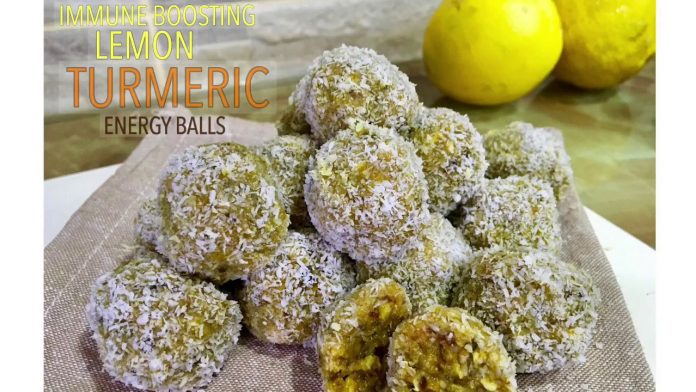 Healthy Immune Boosting Lemon Turmeric Energy Balls | Energy Bites | Superfood
Delicious snack full of beautiful citrus aroma enriched with healing spice- Turmeric, and superfood- Chia Seeds.
These immune boosting, refined sugar-free energy balls are rich in fibers and plant based protein.
Perfect for everyday snacking, and a perfect suhoor or iftar snack!
Recipe:
1/2 cup dates of choice (medjoul) – unrefined source of sugar.
1/4 cup rolled oats – high in Dietary fiber, contain beta-glucan, good source of plant based protein.
1 cup ground almonds- rich in healthy fats, good source of plant based protein.
1 tbsp chia seeds – full of plant based proteins and dietary fibers.
1 tsp ground Turmeric – Superspice, Immune booster
1 tbsp desiccated coconut
1 tsp juice + zest of 1 lemon (or orange)
Soak dates in warm water till soft. Drain.
Blitz all ingredients in food processor till well blended.
Scoop the mixture into balls and roll in desiccated or shredded coconut. Place on a baking sheet and refrigerate.
Refrigerate until ready to serve.
Can be frozen for up to 3 months.