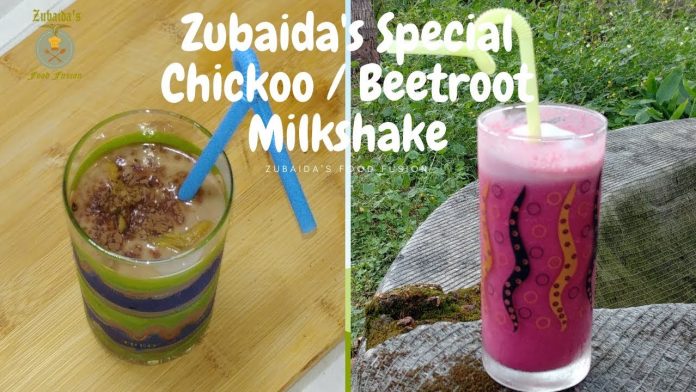 2 Healthy Protein Shake Recipes – Chikoo with Banana Smoothie & Beetroot Milkshakes
#
More Videos: #ZubaidasFoodFusion
Ingredients for Chikoo/Sapota Milkshake:
Sapota milkshake recipe – refreshing and healthy vegan Chikoo shake recipe.
Chikoo: 5 medium [1 cup rinsed, peeled, chopped and deseeded Chikoo (Sapota)]
Milk: 1 cup
Crushed Ice: 1/2 cup
Cocoa / Crushed Chocolate Powder: 1-2 tbsp
Honey/Sugar: 3 tbsp [optional]
Banana: Sliced [Robusta]-1
Ingredients for Beetroot Milkshake:
Beautiful to look at and yummy to taste this beetroot milkshake with cinnamon and vanilla ice cream is sure to win hearts
Beetroot: 1 Big [boiled with skin on, peeled and cut into chunks]
Milk: 400 ml
Crushed Ice: 1/2 cup
Vanilla essence: 1/8 tsp [optional]
Sugar/Honey: 5 tbsp [optional]
Vanilla Ice cream: 2 Scoop
How to Make Chikoo/Sapota Milkshake:
Remove the skin of Chikoo properly.
Cut the Chikoo in quarters and remove the seeds.
Put Chikoo in a juicer or mixer and add milk.
Add one Robusta Banana, sliced
Add sugar if you feel the Chikoo are not too sweet.
Add a drop of vanilla essence. Alternatively you can add vanilla ice cream too.
Blitz into smooth milkshake.
Open the jar and add ice cubes. Blitz again.
Chikoo milkshake is ready. Pour the milkshake in serving glasses and serve chilled.
How to Make Chikoo/Sapota Milkshake:
In a blender juice the beetroot [boiled with skin on, peeled and cut into chunks].
Add sugar syrup, milk, crushed ice and Vanilla essence. Blend.
Add vanilla ice cream and mix.
Serve chilled.
DELICIOUS AND YUMMY Chikoo with Banana Smoothie & Beetroot Milkshakes IS READY TO EAT..!
————–
Copyright ©: This recipe is developed and published on Nov 21, 2018 by Shanith Thekkayil – Zubaida's Food Fusion
Thank you for watching and don't forget to LIKE, SHARE & COMMENT.
————–
Please Subscribe my Channel:-