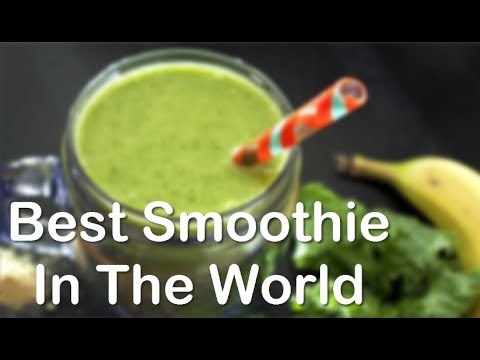 Hi, Welcome to my channel Top Tips. Please subscribe
The BEST Green Smoothie in the WORLD [Equals a healthy breakfast]!
Do you want to have a healthy and quick breakfast, but don't have time to prepare eggs and toast? Are you one of those who want to pack breakfast and eat/drink in the car while driving to work?
Let me share a receipe of a BEST green smoothie and hope you would like it.
Here are the ingredients:
1 cup water (chilled according to preference)
½ cup chopped cucumber
1 cup strawberries (frozen)
1 banana, optional (frozen)
1 apple
2 tightly packed cups spinach
juice of ½ lemon
Ice (only if you're not having any frozen fruits and want a chilled smoothie)
Put all of this in your blender, and blend until smooth. Serve with refreshing fruits, if you still can't have enough of the delicious mixture!
Yes, you read that right. That's the perfect green smoothie, and it's ready in minutes. All you really need to do, is make sure the veggies are cut before morning, and the fruits are frozen.
For people on a diet, a lower calorie intake would mean excluding the banana from the mixture. You may also put in a tablespoon of chia or flax seeds for the extra healthy fats needed. Green smoothies are perfect for people who are to follow a diet plan every morning for breakfast is more than enough calorie intake, and it's healthy and fulfilling too!
This perfect green smoothie gives you increased energy, clearer skin, an improved mood and a great metabolism!
Watch other videos:
Top Tips- 3 Ways to Get Rid Of Fish Smell From Hands
Top Tips, Life Hacks, Cleaning Tips,cleaning Hacks,- How To Remove Bubble Gum From Clothes
How to Clean Microwave in 5 Minutes- Cleaning tips, Life Hacks, Home Remedies
3 Ways To Clean Tough Burnt Stains From Utensils
green smoothie weight loss,
simple green smoothie recipes,
green smoothie ingredients,
green smoothie challenge,
green smoothie benefits,
green smoothie recipe kale,
detox green smoothie,
green smoothie recipe spinach,
healthy smoothie mix,
healthy smoothie shakes,
healthy smoothie drinks,
healthy shakes that taste good,
weight loss shake recipes,
weight loss smoothies at home,
healthy milkshakes for weight loss,
weight loss smoothies that work,
meal replacement smoothies for weight loss,
the best green smoothie,
what can i drink to lose weight fast,