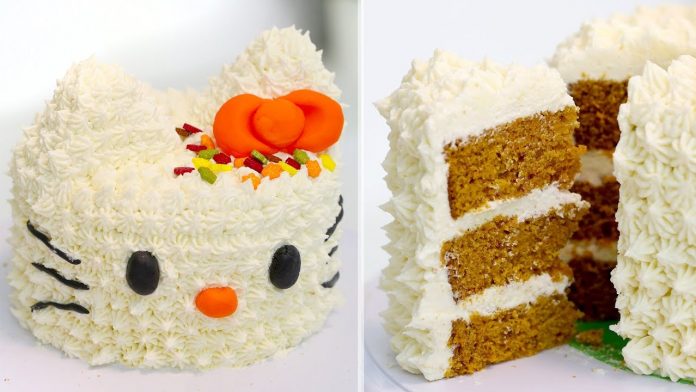 The most delicious pumpkin spice cake that looks like Hello Kitty! We're making a light and creamy cream cheese frosting to spread on top and it's DELICIOUS. RECIPE BELOW!
Hello Kitty Pumpkin Spice Cake
Ingredients
Cake Batter:
2 large eggs
1 ½ cups sugar
1 can (420g) plain pumpkin puree (not fresh puree)
½ cup unsalted butter, melted
2 ½ cups all-purpose flour
2 tsp baking soda
½ tsp salt
1 ½ tsp cinnamon
¾ tsp ground ginger
½ tsp nutmeg
1/8 tsp allspice
1/8 tsp cloves
Cream Cheese Frosting:
250g cream cheese, room temperature
1 ½ cups unsalted butter, room temperature
2 ½ cups confectioner's sugar
1 tsp vanilla extract
Orange and black fondant
leaf sprinkles
Directions
Bake the cupcakes:
1. Combine the eggs, sugar, pumpkin puree and butter in a large bowl. In a separate bowl, combine the flour, baking soda, salt, cinnamon, ginger, nutmeg, allspice and cloves. Add this to the pumpkin mixture and mix well.
2. Divide the batter into three greased 6" round cake pans. Bake at 350F for 20-25 minutes, or until a skewer inserted into the centers comes out clean.
Make the frosting:
1. Beat the butter and cream cheese with an electric mixer until fluffy. Add the vanilla extract and combine.
2. Add the confectioner's sugar and beat until light and fluffy.
Assembly:
1. Slice the tops and bottoms off the cakes. Reserve the tops of the cake.
2. Stack the cakes and spread some frosting between each layer. Cover the cake in a thin layer of frosting.
3. Crumble the sliced tops of the cakes until the fine crumb. You can use the electric mixer to help crumble the cake even quicker! Add a scoop or two of frosting and mix together until you're able to mold the cake into shapes. Shape the cake into 2 ears. You don't need to use all the cake, just enough to create the ears. Place the ears on top of the cake.
4. Place the remaining frosting into a piping bag fitted with a small, star-shaped piping tip. Cover the entire cake in dollops of frosting.
5. Shape some orange fondant into Hello Kitty's bow and nose, and some black fondant into her eyes and whiskers. Attach to the cake, then sprinkle some fall sprinkles around the ribbon. Enjoy!
Facebook: www.facebook.com/pankobunnycooking
Twitter:
Instagram:
Pinterest:
Blog:
Subscribe to my Channel!
New videos every single day! Make sure you tune in!
As always, thank you!!
xx
Cayla
For all of you who are amazing and have read this far, here is a clue for Thursday's video: Cupcakes! (I know it's Thursday, but there's still another video to go before Friday!)
Music courtesy of Audio Network.
Song: Salad Days
This is not a sponsored video.