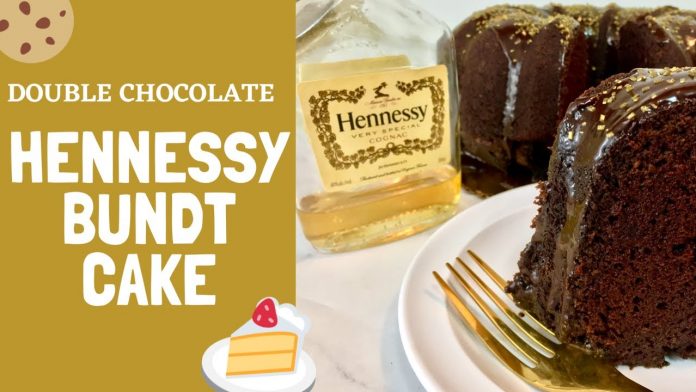 This cake is moist AF! Grab your Hennessy bottles! In this video tutorial we will cover how to make a yummy double chocolate cake recipe infused with Hennessy Cognac alcohol from scratch.
Hennessy Double Chocolate Bundt Cake:
2 and 2/3 cup all purpose flour( White Lily is Bae)
3 cups sugar
1 cup cocoa powder
1 tablespoon baking soda
1/2 teaspoon baking powder
1/2 teaspoon salt
3 eggs
1 and 1/2 cup buttermilk(keeps that thang moist)
1 cup Hennessy Cognac (you can use off brand Henny if your money is a little funny)
1 cup vegetable oil
1 tablespoon vanilla extract(the good ish too,no off brand 🙅🏽‍♀️)
2 teaspoons secret ingredient (if you watched then you know 😘)
Hennessy Ganache:
1 1/2 cup chocolate chips(get the good stuff)
1/2 cup milk
1 tablespoon butter
1 tablespoon Hennessy Cognac Alcohol
👉🏽Remember to make sure all ingredients are room temperature and pre heat your oven
👉🏽Bake at 325 for 45-50 minutes . Check on your cake cause all ovens are varying, but your toothpick should be clean or with a few crumbs.
🛑 Do you love to bake? 🛑 I love helping baking entrepreneurs run their empires like a BOSS and make isssh sweeter 🤗click here for my FREE training on 10 steps to a better baking business 👉🏽 nuggets.sugarcoins.com/better-business-wkshp
👫LET'S BE SWEET FRIENDS! 👫
Follow me on SOCIAL MEDIA at:
Instagram.com/chefschonberg
Facebook.com/sweetswithchef
TAG ME BUDDY: 🤗I can't wait to see your creations and how you shine with your yummy cake ALSO: #nailedit
❤️I am here for you❤️… if you have a question or need help just let a sister know by dropping a comment below 👇🏽
🧁 Need help with a certain recipe? 🧁 Let me know what you struggle with or what flavor combinations I can create for you by commenting below 👇🏽
Happy Baking!