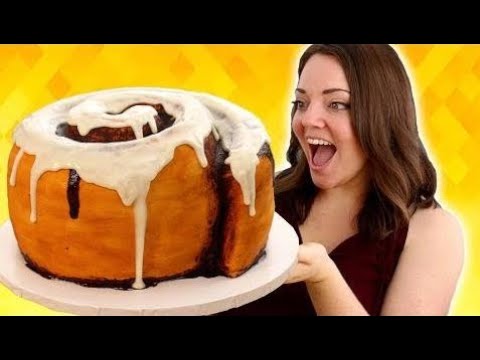 How to make a GIANT CINNAMON BUN CAKE!!! | SUMO CAKE
How to make a GIANT CINNAMON BUN CAKE!!! | SUMO CAKE
SUBSCRIBE HERE:
The Icing Artist RECIPE BOX:
7 Days FREE from StoryBlocks –
Thank you so much again to StoryBlocks for sponsoring this video and making this EPIC Cinnamon Roll Cake possible!! To find out more about how you can download from 400,000 images and more go to and get your FREE 7 days.
Recipes used in video:
Vanilla pound cake recipe –
Buttercream Icing/frosting recipe –
For full printable recipes go to
Cinnamon Cake:
-1 cup vanilla cake batter
-3 tsp. cinnamon
-3 tbs. packed brown sugar
Combine all ingredients, and mix it up!
Cream Cheese Icing (cake filling):
-1/2 butter
-8oz cream cheese
-2 tsp. vanilla
-4 cups icing sugar
In a stand mixer cream butter, cream cheese and vanilla. Add icing sugar one cup at a time whipping icing after each addition. For glaze on top of cake heat ½ cup of icing for 10 seconds in microwave. To veganize recipe just simply use dairy free butter & cream cheese.
Cinnamon Rub:
-1tbs. cinnamon
-1 tbs. brown sugar
-2 ½ tsp. clean vanilla extract.
Combine.
FOLLOW ME:
Facebook-
Instagram- www.instagram.com/theicingartist.laurie
Website- www.theicingartist.com
Useful links!
FIND THE PRODUCTS I USE HERE!!!
Buttercream icing step by step video –
How to cover a cake in fondant video –
How to smooth ice a perfect buttercream cake video –
#NoCakeLimits
I love seeing pictures of your cakes and creations! Tag me on social media @theicingartist.laurie or email me at theicingartist@hotmail.com
Music Credits:
Nicolai Heidlas Music – Drive
'DRIVE' – Fresh Upbeat Pop Background Music
Nicolai Heidlas Music – Sunny Afternoon
Sunny Afternoon – Upbeat Ukulele Background Music
Nicolai Heidlas Music – Paint It
[142 BPM 'PAINT IT!' – Free Upbeat Pop Background
Nicolai Heidlas Music – Morning Sun
Morning Sun – Free Happy Background Music
Nicolai Heidlas Music – Pacific Sun
'PACIFIC SUN' – Free Happy Ukulele Background Music
by Nicolai Heidlas Music is licensed under a Creative Commons License. #SUMOCAKE