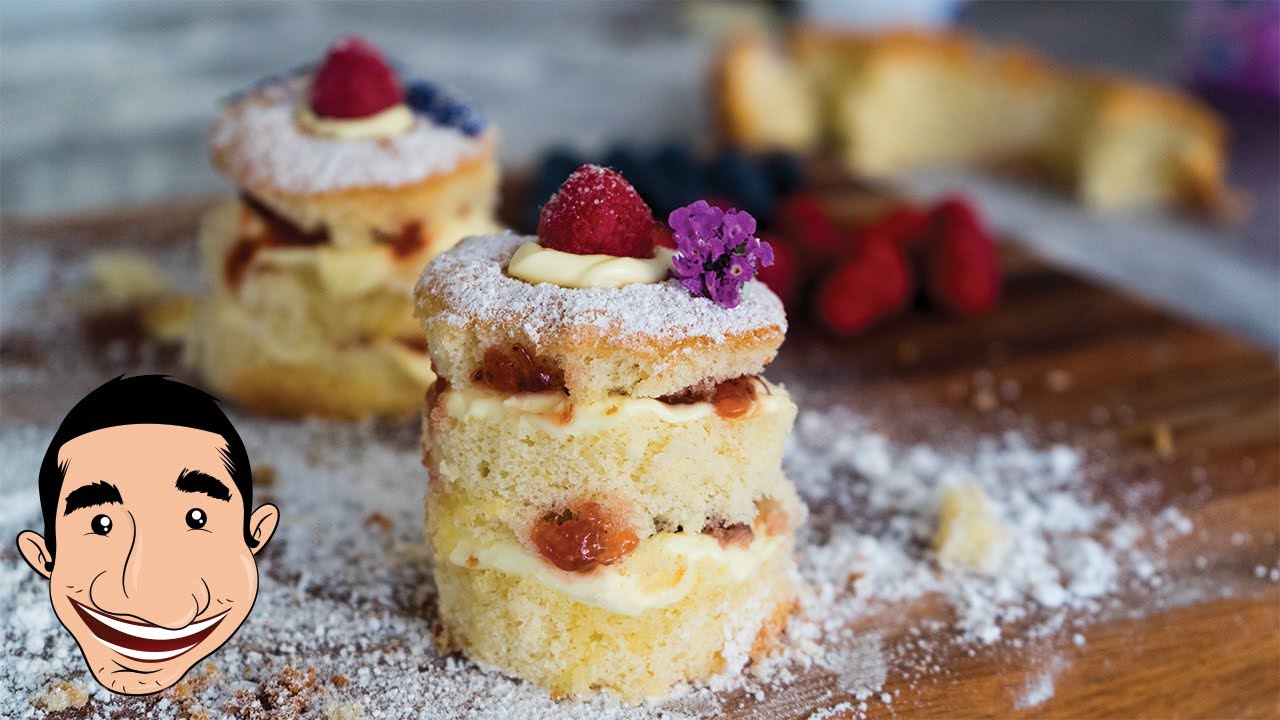 MINI NAKED CAKE – how to make a mini cake. Mini Cake also known as mini naked cakes are sexy, elegant and deeeelicious. www.vincenzosplate.com
INGREDIENTS:
TO MAKE THE SPONGE:
5 farm fresh extra-large eggs
150g white sugar
200g plain flour
TO MAKE THE FILLING:
Mascarpone Cheese
Raspberry
Blueberries
Mango Juice
Edible Flowers
Strawberry Jam
Icing Sugar
METHOD:
TO MAKE THE MOIST SPONGE CAKE:
1. Preheat your oven to 160 degrees celcius (302F).
2. Mix 5 x eggs with 150g white sugar using an electric mixer.
3. Sift in 200g plain flour and fold through using a whisk.
4. Cover a large cake pan with butter and a few sprinkles of flour to coat it and to prevent the cake from sticking to it once it is baking in the oven.
5. Pour the sponge cake mix into the pan and place this in the oven for about 1 hour. Make sure you don't open the oven while it's baking!
HOW TO ASSEMBLE:
1. Once the sponge has cooked and cooled, use a round cutter to cut the cake into mini serves of sponge cake.
2. Cut each portion of mini sponge cake into 3 even slices. Then, starting with the bottom layer, wet the top of the sponge cake (just slightly using a pastry brush) with mango juice. This will help to keep the sponge moist.
3. Spread a generous amount of mascarpone cheese on top of this layer, using a teaspoon, making sure to cover all of the base and its edges. Add 2 spoons of strawberry jam (or another jam you like). You can even add thin slices of fresh strawberry on top of the mascarpone cream.
4. Then, place the next layer of sponge on top and wet it again, then repeat step 3.
5. Add the final layer of sponge on top and wet it with mango juice.
8. Finally, to top it off, add a small amount of mascarpone cheese using a piping bag, then decorate it with a raspberry or blueberry, along with an edible flower and a sprinkle of icing sugar.
Your delicious and Sexy Mini Naked Cakes are now ready to be served and enjoyed.
————————————————————————-
?SUBSCRIBE TO MY YOUTUBE CHANNEL (IT'S FREEEEEE 😉
?Share it with your FOODIE friends on FACEBOOK
?Get the recipe on my website www.vincenzosplate.com
?Check out my website for full recipes and to follow my blog:
Join my Sydney Cooking Classes:
Download my Mobile App
Buy Vincenzo's Plate Apron on:
?Kg to cups converter: [US]
Please Support My YouTube Channel via Patreon! (Help me to create more content)
This video contains affiliate links, which means that if you click on one of the product links below, I'll receive a small commission to support my youtube channel.
Support My Channel By Shopping on my Vincenzo's Plate Amazon Store!
?Subscribe to my YOUTUBE CHANNEL
?LIKE ME ON FACEBOOK
?FOLLOW ME ON INSTAGRAM @vincenzosplate
✔FOLLOW ME ON GOOGLE+
?FOLLOW ME ON LINKEDIN
?Join my Small Group Private Italian Tour and discover the secret gems of Italy with me. Check out the itinerary and make sure you book asap (Only 10 spots available)
Check out these PLAYLISTS:
?COOKING WITH MY FAMILY:
?PASTA RECIPES:
?PIZZA RECIPES:
?MAIN COURSE RECIPES:
?DESSERT RECIPES:
✔LIKE, SHARE and COMMENT on my videos please. It really means a lot to me.
Video Equipment:
Camera:
Tripod:
Ligthing:
Editing software:
?MUSIC: Courtesy of Epidemic Sound
? #VincenzosPlate is a YouTube channel with a focus on cooking, determined to teach the world, one #videorecipe at a time that you don't need to be a professional #chef to impress friends, family and yourself with mouth-watering #ItalianFoodRecipes right out of your very own #kitchen whilst having a laugh (and a glass of vino!).
#minicake #cakes #minicakes #nakedcake #minidessert #naked cakes #minifoodcake #howtomakecake
?Re-Watch the Mini Cake video recipe