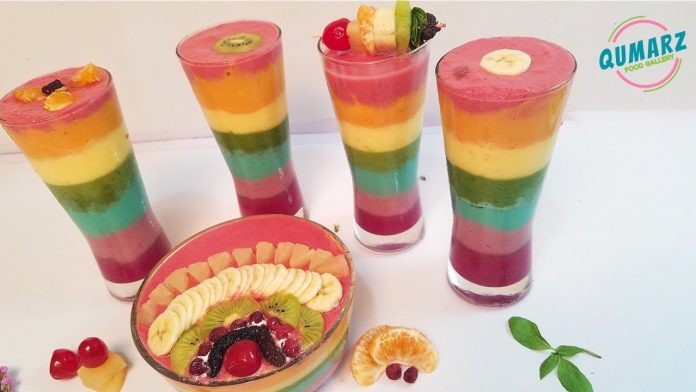 I love colorful things!! and I love Rainbow as well. So today we are making an ALL NATURAL – NO FOOD COLORING – NO ARTIFICIAL FLAVORING – 100% DELICIOUS Rainbow Smoothie! I tried my best to use a combination of fruits along with vegetables that kids love them. Each layer can really be its own smoothie, so if you don't have time for all 6 layers…then just do one and enjoy. Recipe below:
#Rainbow #Smoothie #Qumarzfood
options for milk: Almond milk, vanilla protein shake, coconut milk, low-fat milk, or full-fat milk
options for yogurt: Greek yogurt, vanilla yogurt, low-fat yogurt or full-fat yogurt
Violet Layer :
Options – Blueberries, Black barries or Raspberries
Mulberry ½ cup
Beetroot ½ cup
Frozen Banana No 1
Ice 1 cup
Almond Milk 2 Tbs
vanilla yogurt (Greek or vegan) 2 Tbs
Honey 1 Tsp
Indigo Layer Smoothie:
Option: Pomegranate juice or blueberries
Purple cabbage ½ cup
Mango puree ½ cup
Frozen Banana No 1
Ice 1 cup
Almond Milk 2 Tbs
vanilla yogurt (Greek or vegan) 2 Tbs
Honey 1 Tsp
Blue Layer
Optional: Falsa
Blueberries ½ cup
Frozen Banana No 2
Blue color few drops (optional)
Ice 1 cup
Almond Milk 2 Tbs
vanilla yogurt (Greek or vegan) 2 Tbs
Honey 1 Tsp
Green Layer
Option: Avocado or Green Grapes or Cucumber
Spanish ½ cup
Kiwi No 2
Almond Milk 2 Tbs
vanilla yogurt (Greek or vegan) 2 Tbs
Honey 1 Tsp
Yellow Layered
Option: Peach or Papya
Corn 2Tbs
Pineapple ½ cup
Mango puree ½ cup
Frozen banana No 1
Almond Milk 2 Tbs
vanilla yogurt (Greek or vegan) 2 Tbs
Honey 1 Tsp
Orange Layered
Option: Pumpkin, frozen Mango
Frozen orange No 1
Carrot ½ cup
Almond Milk 2 Tbs
vanilla yogurt (Greek or vegan) 2 Tbs
Honey 1 Tsp
Red Layered
Option: Fresh cherries or Raspberries
Frozen strawberries ½ cup
Tomato No 1
Almond Milk 2 Tbs
vanilla yogurt (Greek or vegan) 2 Tbs
Honey 1 Tsp
PROCEDURE:
1: For each layer, blend all ingredients until super smooth.
2: Add ice to thicken if necessary. If you want these layers REALLY thick so they layer on top of each other well.
3: Finally, once you have each layer made, layer them into a glass on top of each other, in rainbow order.
*** Be the Next Lucky Subscriber to get 3 cooking Tips or Health Tips for free.
1. Must be subscribed to My YouTube Channel
2. Must be engaged in my channel by liking, commenting, posting, sharing and encouraging others to subscribe to my channel.
#RainbowSmoothie #RainbowMilkShake #RainbowCake