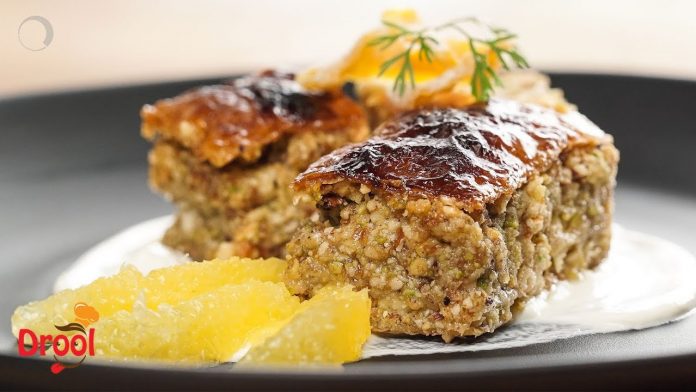 A dessert treat from the Greeks, Baklava is layers of filo pastry baked to a crisp delight.
Credits: Chef Zaid
Ingredients:
– 500 Gms granulated sugar
– 300 Ml water
– 100 Ml honey
– Cinnamon
– 2 Orange peels
– 150 Gms pistachios
– 250 Gms walnuts
– 400 Gms almonds
– 200 Gms icing sugar
– Filo pastry sheets
– Melted butter
– All-purpose flour
Method:
Start by making the syrup for Baklava-
1) In a pan, add sugar, followed by water, honey & cinnamon. Stir a little to prevent the mixture from getting sticky.
2) Add in cinnamon sticks & orange peel.
3) Keep stirring for a while till the mixture thickens.
4) Strain & leave aside.
To make the baklava-
1) Take a bowl & to it add the chopped & crushed pistachios, walnuts & almonds one by one.
2) Add the icing sugar & mix.
3) Take 20 filo pastry sheets & lay them out on a flat surface.
4) Take a rectangular baking dish & place it upside down on the pastry sheets.
5) Scrape off the edges with a sharp-edged knife.
6) The pastry sheets should come out looking rectangular.
7) Take the same baking dish & apply some melted butter at the bottom, followed by all purpose flour.
8) Place the first filo pastry sheet.
9) Apply butter & add the nut mixture. Lay it out evenly.
10) Place the next filo pastry sheet.
11) Apply butter & all-purpose flour, followed by the nut mix.
12) In this way, keep layering up the remaining sheets. Make sure you maintain the same order.
13) Make cuts on the baklava so that the pieces come out easily, once out of the oven.
14) Bake at 180C for 15 minutes.
15) Add the orange flavoured syrup once the baklava is out.
Take out individual portions & enjoy this Greek dessert right away!
Make delicious, scrumptious, tasty and flavourful food with us.
Subscribe to our channel NOW!
Like us on Facebook:
Follow us on Twitter:
Follow us on Instagram:
Want to feature your recipes or restaurants on our show?! Have culinary skills you feel you must share?!
Send us details at: [email protected]
Join the Noiz Network. Sign up at today