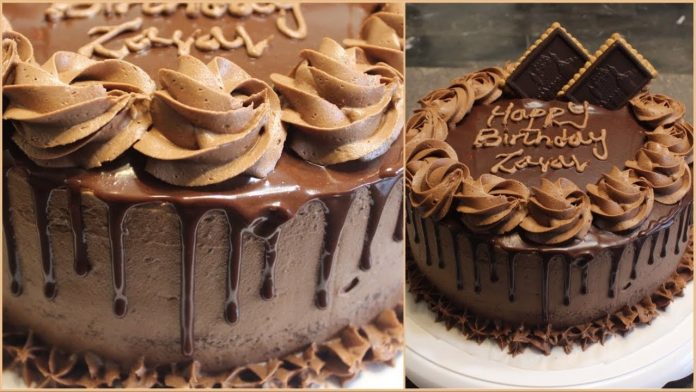 Learn how to make Chocolate Cake in a pressure cooker and oven with a step by step easy recipe video. Perfect for chocolate lovers, this cake is rich, moist and creamy. It includes layered chocolate, chocolate frosting, and chocolate ganache as the topping.
* Ingredients:
2 cups (400 grams) granulated white sugar
1 3/4 cups (245 grams) all-purpose flour
3/4 cup (75 grams) unsweetened cocoa powder
1 1/2 teaspoons baking powder
1 1/2 teaspoons baking soda
1 teaspoon salt
2 eggs (room temperature)
1 cup (240 ml) warm water or coffee
1 cup (240 ml) milk
1/2 cup (120 ml) vegetable oil
2 teaspoons pure vanilla extract
* Chocolate Frosting:
8 ounces (225 grams) semi sweet chocolate, coarsely chopped
1 cup (226 grams) unsalted butter, room temperature
2 1/2 cups (300 grams) confectioners (powdered or icing) sugar, sifted
2 teaspoons pure vanilla extract
* Chocolate Ganache
3.5 oz (100 gram) semisweet chocolate
1/2 cup (120 gram) whipping cream
Thumbs up, and SUBSCRIBE if you love food and this video!
New videos uploaded every week.
Y O U T U B E CHANNEL:
——————————————————————————-
F A C E B O O K :
www.facebook.com/cookwithmadeeha
I N S T A G R A M:
Madeeha Imtiaz
P I N T E R E S T:
www.pinterest.com/cookwithmadeeha
E M A I L ME:
[email protected]
——————————————————————————————
——————————————————————————————
**DISCLAIMER**
All the information in this cooking channel is for educational purposes only. Recipes, tips and tricks are for informational purposes only. These recipes are not intended as medical advice, diagnosis or prescription. If you have any medical conditions, please consult your doctor before trying any new diet. I am not responsible for anything.