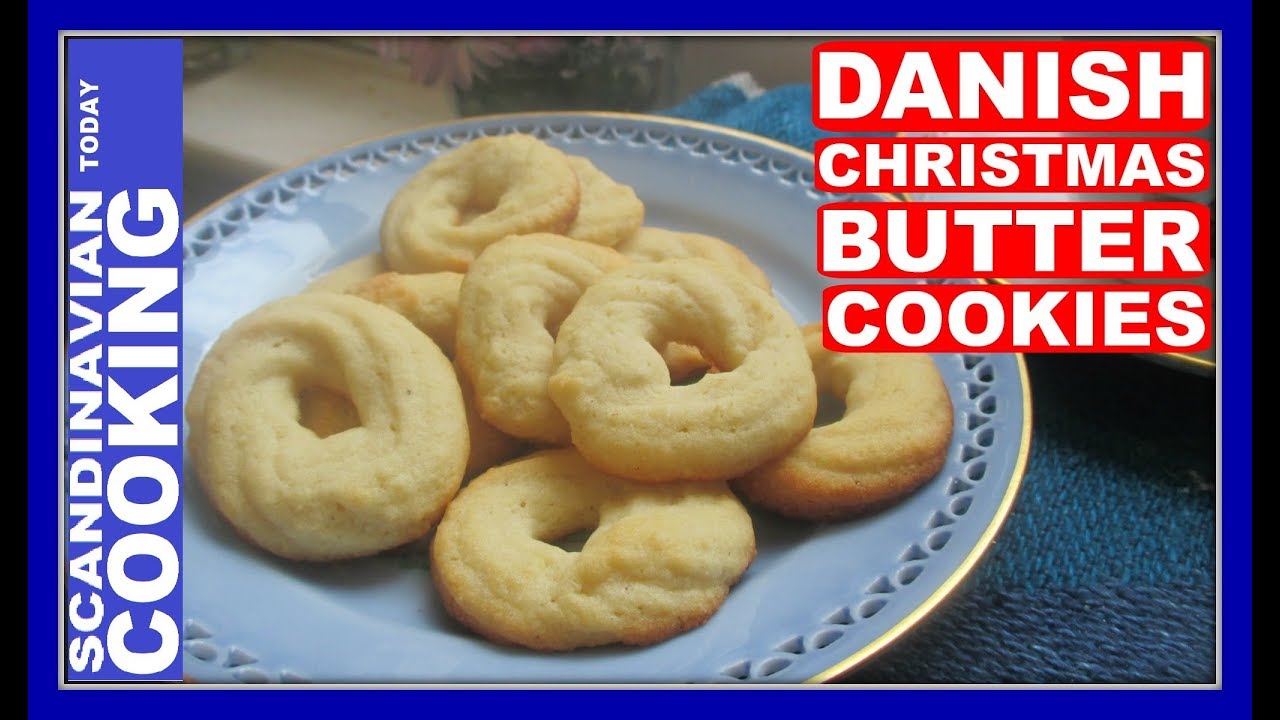 Danish Vanilla Wreath Cookies is one of cookies that have been popular in Denmark since the 1840's. A popular pattern has been to make the Danish butter cookie is into a wreath shape. This circular wreath cookie is known as Vanilla Wreath or in Danish Vaniljekranse.
Here we show you how to make the traditional Vanilla Wreath Cookie by using a pastry bag using a star shaped tip to create these cookies.
Danish Vanilla Wreath Cookies Recipe
3/4 cup of almond flour
9-12 ounces of flour, sifted
6 ounces of sugar
7 ounces of soften salted butter
1 small egg
1 tablespoon of vanilla extract or 1/2 a vanilla bean
Instruction
1. Using the food processor pulse the almonds until they turn into powder. The texture is similar to granulated sugar. Then set aside.
2. Add in a bowl the softened butter and sugar and mix the ingredients with your electric mixer.
3. Mix in grounded almonds.
4. Add vanilla extract and egg. Mix it some more.
5. Gradually add in flour as you are mixing the ingredients. Mix until everything is mixed well.
6. Pre-heat the oven to 400 °F.
7. Next add the cookie dough into your pastry bag.
8. To get the wreath shaped cookie attach a star shaped cross-section tip on the pastry bag.
9. Either add parchment paper or butter and flour the baking tray.
10. Bake for 10 to 15 minutes or until cookies are golden yellow.
11. Cool in a wire rack.
Serve these buttery festive cookies on a cookie tray at your next Christmas party. ⛄️🍴🎉🎁 🎄 🎅 🕯✨
❄️We hope you enjoyed our video and recipe! ❄️ Give us thumbs up if you like this video & subscribe for more videos. 👍👍 Thanks! Tak!
❄️For notifications of our video release click on the bell (lower left of the video)
❄️ SUBSCRIBE to learn how to make Scandinavian dishes.
❄️ Our Scandinavian Today Cooking Show includes Nordic recipes including Danish, Norwegian, Swedish, Icelandic and Finnish. You might be interested in other Nordic cooking videos including
Æbleskiver ♥ How to Make Danish Aebleskiver with Apple Filling ❅
How to make Swedish Glogg for Christmas & cold evenings! (glögg or mulled wine recipe)
How to make our easy Danish cucumber salad (Agurkesalat) recipe
How to make Danish Kringle – A Delicious Danish Pastry
Norwegian Cake Recipe – Kvæfjordkake – How to make the World's Best Cake!
Finnish Spoon Cookies – Lusikkaleivat
Flatbraud – How to Make Icelandic Rye Flatbread
❄️ New Episodes (just about) two each week. We have over 250 Nordic recipes.
Please let us know if you have a recipe request!
❄️ LET'S CONNECT! ❄️
YouTube Scandinavian Today
Blog
Pinterest
Twitter
Facebook
Google+ +ScandinavianToday
❄️About Us
We are Karen Grete & Heidi (mother/daughter team). We are excited about Scandinavian – Nordic art, travel and of course FOOD!
We ❤️ you ALL for watching!
Skål!
xoxo
Karen Grete and Heidi
#ScandinavianToday #KarenGrete #ScandinavianCooking #Recipes