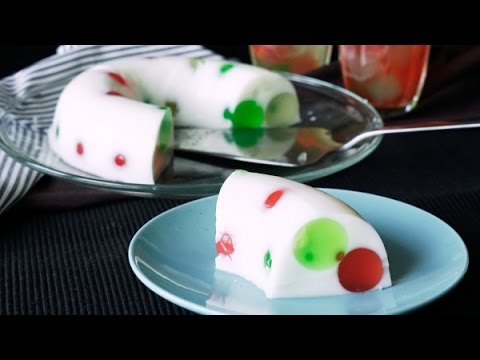 https://www.youtube.com/watch?v=HuxnEX1YKZo
How to make festive raindrop jello cake, christmas jello desserts, jello recipe from scratch
INGREDIENTS:
•(calpis)
•100c calpis concentrate
•80cc water
•180cc milk
•10g powdered gelatin
•10ml lemon juice
•(agar)
•150ml water
•6g powdered agar
•60g granulated sugar
•(lemon)
•150ml lemon soda
•(melon)
•150ml melon soda
•(acelora)
•150ml acerola soda
LET'S GET COOKING…
1.Make the agar liquid by combining ingredients in a saucepan. Heat over low heat for 2 minutes.
2.Put sodas in separate bowls and microwave for 1 minute each at 600 watts.
3.Add in 50g agar liquid in each bowl of soda and mix immediately. Pour into spherical molds. Cover and refrigerate for 1 hour. Once they are firm, take them out of the molds.
4.To make the calpis jello, pour water in a large bowl and sprinkle gelatin on top.
5.Microwave for 30 seconds at 600 watts. Mix until gelatin has dissolved. Add in the rest of the ingredients .
6.Transfer the soda jello into a cake mold. Then pour in the calpis jello and refrigerate for 2 hours or until firm.
We made Home Cooking in light of one objective, to interface the world through video. Probably the most bringing together and extraordinary moments of our life revolve around a meal, the place where individuals meet up. We realize that we can't do this single-handedly, nor would we need to. It will take a group of profoundly enthusiastic individuals. Fortunately, home cooking, similar to you, from around the globe are as of now making stunning content, groups and drawing in with your enthusiasm. Share it to others and touch one more individual every day.
Don't forget to subscribe us
YOUTUBE:
Follow me:
FACEBOOK:
TWITTER:
GOOGLE+:
#how to make raindrop cake without agar
#raindrop cake toppings
#raindrop cake recipe without agar
#flower raindrop cake recipe
#raindrop cake mold
#strawberry raindrop cake recipe
#how to make a raindrop
#how to make a raindrop cake without agar powder