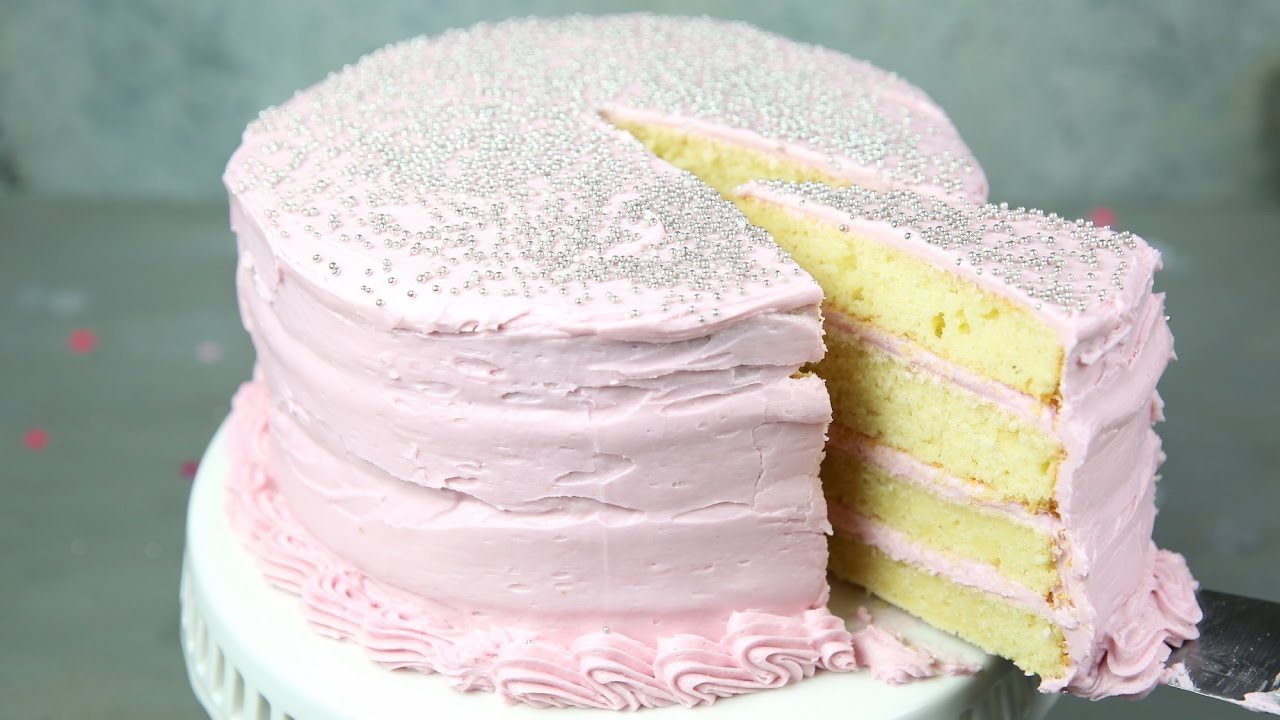 Visit Foodstirs.com
Recipe here:
Prep: 1 hour
Bake: 30-35 min
Yields: 1 cake (8-10 large slices)
Ingredients
For Cake:
2 Foodstirs Simply Sweet Vanilla Cake mixes
6 *Vital Farms eggs
1 1/4 cup *Vital Farms butter, room temperature
3/4 cup yogurt
3/4 cup milk
For Frosting:
2 Foodstirs Organic Frosting mixes
6 Tbs *Vital Farms butter, room temperature
4 Tbs yogurt
5-6 drops pink food dye (or desired color)
Silver Sugar Pearls, for garnish
*Or your favorite organic egg and butter brand
Directions
Preheat the oven to 350 degrees and position one rack in the top of the oven and one rack in the middle of the oven. Spray four 8-inch cake pans with nonstick spray. In a large bowl, using an electric hand blender, whip the butter until it is fluffy, about a minute. Scrape down the sides of the bowl, then add in the eggs one at a time, incorporating each completely before adding the next. Blend in the yogurt and milk.
With the mixer on low, slowly add the dry cake mixes and blend until no lumps remain. Divide the cake batter evenly among the four cake pans and place two on the top rack and two on the middle rack. Bake 30-35 minutes, rotating the pans on the middle rack up to the top rack halfway through baking. The cakes are done when they begin to turn golden brown and the tops spring back when you press on them.
Remove the cakes from the oven and cool on a wire rack 10 minutes, then carefully run a butter knife around the edge of each cake and invert them onto the cooling rack. Allow the cakes to cool completely.
For the frosting, combine butter and yogurt in a large bowl. Using an electric hand mixer, beat until ingredients are well combined, then slowly add the dry frosting mixes and blend until the mixture becomes smooth and creamy, about a minute. Add 5-6 drops of pink (or desired color) food dye and mix until fully incorporated.
Once the cakes are cooled, use an offset or regular spatula to spread frosting onto the first layer of cake, bottom-side up. Repeat with next cake and place on top of the first, bottom-side up. Insert a toothpick into both sides of the top cake, about 1 inch from the edge, this will keep the cakes from shifting. Repeat with frosting on remaining layers, then insert toothpicks into both sides of the top layer of cake.
Scoop the frosting onto the top of the cake, then begin to smooth it over the sides, using an offset or regular spatula. Continue until the cake is completely frosted. Sprinkle with silver sugar pearls, or desired decorations.